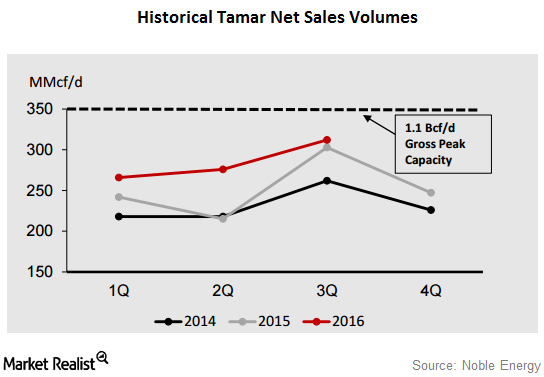 Why Did Noble Energy Sell Interest in the Tamar Field?
Tamar gas field
On July 5, 2016, Noble Energy (NBL) announced the sale of 3% working interest in the Tamar field to Harel Group—a leading insurance company in Israel—for $369 million.
The sale was in accordance with Israel's approved Natural Gas Regulatory Framework, which requires NBL to sell 11% of its interest in the Tamar field. Prior to the sale, NBL's working interest in the Tamar oil field stood at 36%.
Noble Energy (NBL) plans to carry out the sale of the remaining 8% over the next three years, bringing its working interest in the Tamar field down to 25%.
Noble Energy's management noted in a press release that the proceeds from the sale would help fund capital investments in Israel, including its Leviathan project.
Article continues below advertisement
The Tamar sale fits Noble Energy's strategy to monetize assets to improve its balance sheet position. On November 1, David Stover, NBL's CEO, noted in the company's 3Q16 earnings release, "Year to date, we have operated our business within organic cash flows while also monetizing nearly $1.5 billion in assets. Improving our balance sheet has positioned our business for activity acceleration and allowed us to pay down debt."
Anadarko Petroleum (APC) has also been monetizing assets in a bid to reduce its debt. Please read Should Anadarko's Debt Load Concern Investors? to learn more about Anadarko Petroleum.
Among the other upstream companies, Marathon Oil (MRO), Hess (HES), and Chesapeake Energy (CHK) have also made the sale of non-core assets one of their key strategies in a low price environment. Combined, these companies make up 7% of the Energy Select Sector SPDR ETF (XLE).
New well plans
In its July 5, 2016, press release Noble Energy noted that it plans to drill and complete an additional development well at the Tamar field "in response to the continued increasing demand and outlook for natural gas usage within Israel, as Israel displaces coal for clean-burning natural gas." Drilling is expected to commence in 4Q16.
Noble Energy (NBL) sold net volumes of 252 million cubic feet per day of natural gas in 2015, generating net pretax income of $318 million in 2015.
Next, we'll look at a key announcement by NBL in relation to its Leviathan gas project.