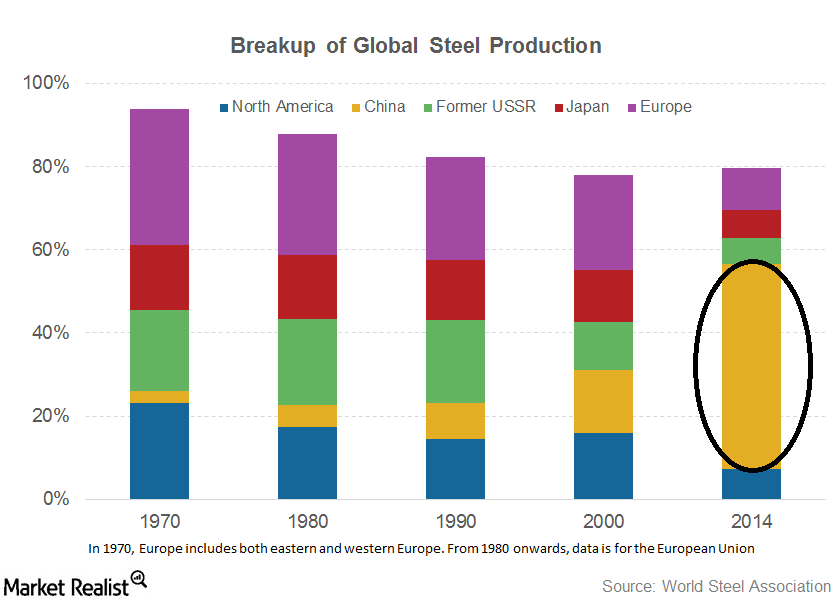 Why China Could Still Be U.S. Steel's Trump Card
U.S. Steel's Trump card
Steel stocks (XME) took a joyride after Donald Trump won the US presidential election. We saw a sharp rise in stocks such as U.S. Steel Corporation (X), AK Steel (AKS), Nucor (NUE), and ArcelorMittal (MT). The market's reaction wasn't surprising given Trump's stance on curbing imports and boosting US manufacturing.
U.S. Steel's investors seem to be banking on higher US steel demand due to Trump's infrastructure bet. The markets also seem to be factoring in a fall in US steel imports in 2017.
Article continues below advertisement
China
China is the world's largest steel producer, consumer, and exporter. Rising Chinese steel exports have spooked the global steel markets. China exported 112 million metric tons of steel last year, more than what Japan, the second-largest steel producer, produced in the entire year. No other country in history has dominated the global steel landscape so much, as we can see shown in the graph above.
China's overproduction
Steel overproduction in China has negatively affected Chinese steel prices. So, what do Chinese steel prices have to do with US steel prices?
Currently, China isn't a major exporter to the United States. The country accounts for only about 2% of US steel imports. Having said that, Chinese steel prices affect steel prices all over the world.
Higher Chinese steel prices tend to put a floor under international steel prices. As Chinese steel prices rose in 2016, we saw rises in steel prices in other regions as well. Higher international prices increase the landed costs of US steel imports, indirectly helping US steel pricing.
In the next article, we'll explore how China's proposed capacity cuts could affect US steelmakers.