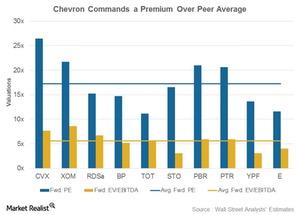 Why Chevron's Valuations Command a Premium over the Peer Average
Peer comparison
Earlier, we discussed Chevron's (CVX) historical valuation trend. In this article, we'll consider CVX's forward valuations compared to those of its peers.
Before we go ahead with a peer comparison, let's consider the market caps of integrated energy companies. Chevron's market cap stands at ~$221 billion. Peers BP (BP) and Total (TOT) have lower market caps of ~$116 billion and ~$128 billion, respectively. ExxonMobil (XOM) and Royal Dutch Shell (RDS.A) have higher market caps of ~$384 billion and ~$225 billion, respectively.
Article continues below advertisement
Chevron's valuations
Chevron is currently trading at a forward PE (price-to-earnings ratio) of 26.5x, above the peer average of 17.3x. ExxonMobil, PetroChina (PTR), and Petrobras (PBR) are also trading above the average PE. On the other hand, Total, Statoil (STO), and YPF (YPF) are trading below the average. Similarly, Chevron is currently trading at a forward EV-to-EBITDA (enterprise value to earnings before interest, tax, depreciation, and amortization) multiple of 7.6x, above the peer average of 5.6x.
Why Chevron's valuations command a premium over its peers'
The premium Chevron has over its peers is likely due to the actions it's taken not only to survive at lower oil prices, but also to prepare for future growth. Its robust upstream portfolio, its focus on the high-return downstream value chain, and its decent leverage position attest to this.
Plus, the major capital-intensive projects that Chevron has been investing in are operational or likely to be operational soon. This should result in higher earnings and cash flows for the company, particularly in a scenario of rising oil prices. So, better growth prospects and financial strength are likely providing Chevron with an edge over its peers.
If you're looking for a portfolio made up of integrated energy companies, you can consider the SPDR S&P Oil & Gas Exploration & Production ETF (XOP). The ETF has ~6% exposure to energy sector stocks.