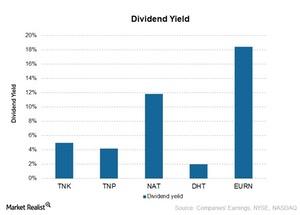 Which Crude Tanker Company Has the Highest Dividend Yield?
By Sue Goodridge

Updated
Dividend yield
Dividend yield measures how much cash flow investors get from each dollar they invest in a company. It's calculated by dividing a company's annual dividend by its share price. A company that consistently pays out dividends may be more valued, as it attracts income investors.
High-dividend-yield stocks can be a good source of income for investors, but this income may come at the cost of growth. Paying out dividends means a company isn't reinvesting that money into itself or deleveraging, which could affect how it performs in the future.
Article continues below advertisement
A company's dividend yield should be looked at alongside its payout ratio. The payout ratio tells us how much a company is paying in dividends in relation to its cash flows or profits. Companies that have high dividend yields may be paying more dividends than what is sustainable, which could lead to dividend cuts in the future.
 Nordic American Tankers's long dividend history
Nordic American Tankers (NAT) has paid dividends for 77 consecutive quarters. As the company operates only in the spot market, its earnings are volatile and not predictable. This makes the company's dividends volatile as well.
In the third quarter, the company paid a dividend of $0.26 per share. NAT's current dividend yield is 11.8%, and its dividend coverage ratio for the third quarter based on its cash flow is 0.84.
Article continues below advertisement
Euronav's dividend yield
From 2011 to 2014, Euronav (EURN) didn't pay any dividends. In 2Q15, it introduced a new dividend policy to distribute at least 80% of the previous year's annual net profit. Its dividend yield stands at 18.7%—one of the highest in the industry.
Tsakos lowers dividends
Tsakos Energy Navigation (TNP) pays a fixed quarterly dividend. In 3Q16, the company lowered its quarterly dividend to $0.05 per share, which gives a dividend yield of 4.2%.