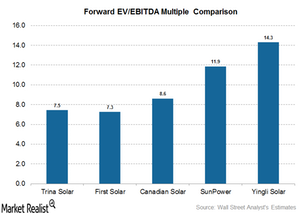 Where Does Yingli Solar's Valuation Stand among Peers?
Relative valuation
A company's valuation helps us compare a company with its peers. Specifically, the EV-to-EBITDA (enterprise value to earnings before interest, tax, depreciation, and amortization) multiple represents the cost of a company's common stock. A higher EV-to-EBITDA multiple implies that the company in question is overvalued as compared to its peers.
A company's EV-to-EBITDA multiple isn't impacted by its capital structure. As the upstream solar industry is capital-intensive, companies in this industry raise capital through a variety of sources to fund their expansion plans. As a result, the capital structure can vary significantly among them.
The EV-to-EBITDA multiple is thus useful for comparing the value of one company to that of another. By comparison, the forward EV-to-EBITDA multiple takes into account the company's EBITDA for the next 12 months.
Article continues below advertisement
Among major upstream solar (TAN) companies, First Solar (FSLR) has the lowest estimated forward EV-to-EBITDA multiple of 7.3x as of December 9, 2016. Trina Solar's (TSL) estimated multiple is 7.5x, and analysts have estimated Canadian Solar's (CSIQ) forward EV-to-EBITDA multiple at ~8.6x, as compared to SunPower's (SPWR) multiple of 11.9x.
As of December 9, 2016, Yingli Solar had the highest forward EV-to-EBITDA multiple of 14.3x.
Analysts' recommendations on Yingli Solar
As of December 9, 2016, of the four analysts covering Yingli Solar, only one analyst recommended the stock as a "buy," whereas one analyst gave the stock a "hold" recommendation, and the remaining two issued a "sell" on the stock.
As of the same date, Yingli Solar's consensus 12-month target price was $3.68. This figure indicates an ~18.0% return potential, considering its $3.12 closing price on December 9.