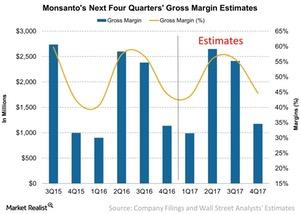 What's in Store for Monsanto's Profitability in 2017?
By Adam Jones

Updated
Profitability
Earlier in this series, we looked at revenue estimates for Monsanto (MON). Seeds and crop protection are mostly commodity products (MXI). So we need to magnify the impact of profitability at the gross margin level. Let's look at margin estimates for 2017.
Article continues below advertisement
2017 gross margin estimates
For fiscal 2017, Wall Street analysts are estimating that Monsanto will report $7.3 billion in gross income, resulting in a gross margin of 53.0%. If analysts get it right, that would be up from 52.5% in fiscal 2016. Compare that to Syngenta (SYT), which is estimated to report a gross margin of 48.0%. That would also be up from 47.5% in fiscal 2016.
Dow Chemical's (DOW) gross margin is expected to come in at 23.0% on gross income of $11.2 billion in fiscal 2017. FMC (FMC) is estimated to report a gross margin of 33.0%.
Now let's look at Monsanto's EBITDA (earnings before interest, tax, depreciation, and amortization) margins.
EBITDA margins
For fiscal 2017, analysts are estimating a rise in Monsanto's EBITDA, from 25.2% in fiscal 2016 to 28.1% in fiscal 2017. Sales are estimated to rise 3.0%, and EBITDA is expected to rise as much as 14.9% in 2017. That would show a significant optimization in operation costs related to SG&A (selling, general, and administrative) expenses, according to Reuters.
Next, we'll see how Monsanto's EPS (earnings per share) is expected to rise in 2017, given the margin expansion.