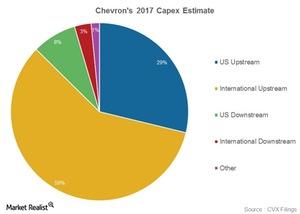 What Does Chevron's 2017 Capex Estimate Reveal?
In this series…
Chevron (CVX) has announced its capital and exploratory expenditure plan for 2017.
In this series, we'll provide you with an update on Chevron's market performance, followed by a financial analysis. In the coming articles, we'll examine CVX's latest stock performance, analyst ratings, dividend yield, short interest position, institutional ownership status, and implied volatility movements. Later, we'll discuss CVX's valuations and correlation to oil.
Later, we'll switch to a fundamental analysis of Chevron's business segment dynamics, upstream performance and portfolio, and downstream performance. We'll also analyze CVX's financial position by examining its leverage and cash flow position.
Let's begin by looking at Chevron's 2017 capital expenditure (capex) guidance.
Article continues below advertisement
Chevron's 2017 capex estimate
Chevron has announced capex of $19.8 billion for 2017. This amount is around 42% lower than the company's 2015 capex, and it's likely to be at least 15% lower than the company's 2016 estimated capex. This reduced capex reflects Chevron's conscious effort to optimize its capital spending and focus on core growth projects. In the first nine months of 2016, Chevron incurred capex of $17.2 billion, ~91% of which went toward its upstream segment.
Of the company's total 2017 capex, ~87% is planned to be incurred in the Upstream segment. Chevron is concentrating on projects that provide better returns in less turnaround time. In fact, Chevron expects 70% of its upstream capex to start yielding results in two years of investment.
The majority of capex in the Upstream segment is dedicated to international projects, including the Gorgon and Wheatstone LNG projects in Australia, the Tengiz field in Kazakhstan, and other early stage projects globally. In its domestic Upstream segment, Chevron plans to spend ~29% of its capex on projects such as its Permian Basin development.
Chevron's chair and CEO, John Watson, stated, "This is the fourth consecutive year of spending reductions. Construction is nearing completion on several major capital projects, which are now online or expected to come online in the next few quarters. This combination of lower spending and growth in production revenues supports our overall objective of becoming cash balanced in 2017."
Chevron's peers Royal Dutch Shell (RDS.A), BP (BP), and ExxonMobil (XOM) are also looking at optimizing their capex for 2017. Shell (RDS.A) expects its combined capital investment for the merged Shell-BG entity to be ~$25 billion in 2017, lower than its estimated $29 billion in 2016. BP expects its 2017 capex to be in the range of $15 billion–$17 billion, compared to an estimated $16 billion in 2016.
If you're looking for exposure to integrated energy stocks, you can consider the iShares US Energy ETF (IYE). The ETF has ~40% exposure to the sector.
In the next article, we'll have a look at CVX's stock performance.