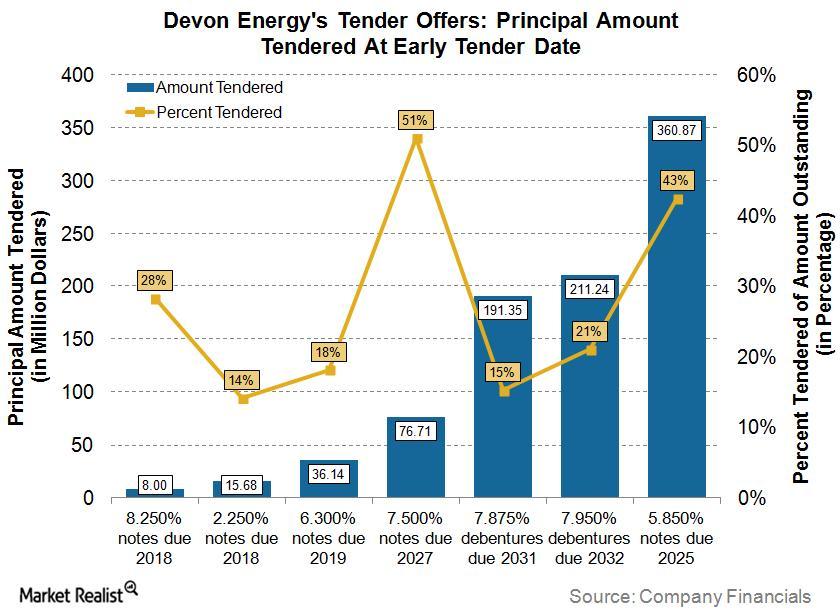 What Are the Results of Devon Energy's Tender Offers?
Protect investment grade balance sheet
Not long ago, in 2014, crude oil (USO) was trading above $100 per barrel, and natural gas (UNG) was trading above $5 per MMBtu (million British thermal units). In 2016, crude oil has struggled at ~$50 per barrel, whereas natural gas has struggled at ~$3.3 per MMBtu.
In order to deal with these lower energy prices, Devon Energy has designed its own approach. According to the company, one of the key components of this approach is the protection of its balance sheet. Accordingly, in order to reduce its outstanding debt, Devon Energy has conducted tender offers for the repurchase of certain outstanding notes and debentures.
Article continues below advertisement
Tender offers result
On December 19, 2016, Devon Energy announced the results of its tender offers. According to a press release by the company, as of the early tender date of December 16, 2016, a total principal amount of ~$900 million had been tendered by holders of various notes and debentures eligible in the tender offers. The individual details of the principal amounts tendered for eligible notes and debentures are shown in the above chart.
As we can see, the principal amount of ~$486 million (or 54% of the total principal amount tendered) has been tendered by holders of notes and debentures with interest rates of higher than 7%. This factor will likely be beneficial to Devon Energy, as it will help reduce its future interest payments.
Other oil and gas players
Other oil and gas producers Southwestern Energy (SWN), Parsley Energy (PE), California Resources (CRC), and Cobalt International (CIE) have also completed tender offers in the last year in order to reduce their debt burdens. Bigger player ConocoPhillips (COP) has paid off nearly $2.2 billion worth of debt in 2016, and it plans to reduce its debt by $7 billion in the next three years.
The Energy Select Sector SPDR ETF (XLE) generally invests at least 95% of its total assets in oil and gas companies.
In the next article, we'll look at the cash costs and benefits associated with Devon Energy's tender offers.