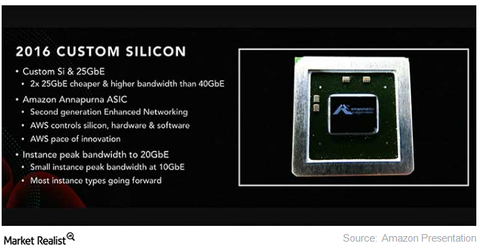 What Amazon's Annapurna ASIC Tells Us about the Cloud Space
By Anne Shields

Updated
Amazon's custom semiconductor chips
Amazon.com's (AMZN) AWS (Amazon Web Services) is developing customer semiconductor chips to speed up its cloud network as well as expand its presence in custom hardware. The new chip, Annapurna ASIC (Application Specific Integrated Circuit), will be a custom semiconductor that can be tailored for functions like network management.
Article continues below advertisement
Custom chips and hyperscale workloads
Amazon peer Google (GOOG) has developed a custom ASIC (application-specific integrated circuit) named TPU (Tensor Processing Unit), which it uses for deep learning applications such as object identification, voice recognition, and translations of text to different languages. Microsoft (MSFT) uses FPGAs (Field Programmable Gating Arrays) for its cloud servers. Facebook (FB) has resorted to GPUs (graphics processing units) driven machine learning server.
Amazon has not been forthcoming in sharing the details about its infrastructure. But its recent disclosure about its new networking chip suggests that competition is rapidly increasing in the cloud space. It also indicates that hyperscale data centers are moving beyond CPUs (central processing units) to specialized chips like ASICs, FPGAs, and GPUs, a trend highlighted by Datacenterfrontier.com.
You can invest in the SPDR S&P 500 ETF (SPY) for indirect exposure to the technology sector. SPY invests about 8.4% of its holdings in the application software space.