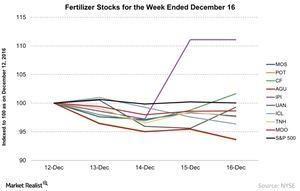 Weekly Fertilizer Stocks: Intrepid Potash Continued to Rise
By Adam Jones

Updated
Weekly performance
The week ending December 16 remained broadly negative for agricultural fertilizer companies. The VanEck Vectors Agribusiness (MOO) fell 1.3% last week. However, the S&P 500 (SPY) rose by five basis points for the week ending December 16. Below, we'll discuss the weekly and YTD (year-to-date) performances of eight major publicly listed agricultural fertilizer companies.
Article continues below advertisement
Top gainers and losers
Last week, Intrepid Potash (IPI) continued to dominate. It closed with a gain of 11.1% at $2.4 over the week. CF Industries (CF) rose 1.7% to $29.5 per share during the week. Besides these two companies, all of the other companies emerged as losers last week.
PotashCorp (POT) topped the list. It fell 6.4% to $18.1 per share. Agrium (AGU) fell 6.3% to $100.1 per share. Agrium was downgraded last week after its recent rally. Read Agrium Downgraded: What's in Store for the Company in 2017? to learn more. 
Israel Chemicals (ICL) fell 3.6% and closed at $4 per share, while Terra Nitrogen (TNH) fell 2.4% at $103.1 per share. Mosaic (MOS) also ended the week in negative. It fell 2.3% to $29.6 per share, while CVR Partners (UAN) fell by 70 basis points to $5.7 per share last week. Let's see how these companies performed YTD (year-to-date).
Article continues below advertisement
YTD performance
CVR Partners is the biggest loser YTD—it fell 29%. CF Industries fell 27% YTD. Intrepid Potash recovered significantly in recent weeks, but it's still down 21.5%. Israel Chemicals fell 3.6% and Terra Nitrogen fell 1.3% YTD.
Among the stocks with a positive YTD return, Agrium rose 12.5%, PotashCorp rose 4.3%, and Mosaic rose 4% YTD. MOO has returned 13.6% and the S&P 500 Index has returned 12.2% YTD.
Series overview
Fertilizer prices are key to the above companies' performances. In this weekly series, we'll provide an update on fertilizer price movements for the week ending December 12.
We'll start by discussing last week's price movements for nitrogen fertilizers, phosphate, and potash.