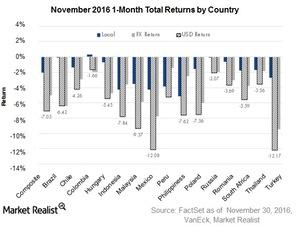 Impact of Volatility in Emerging Market Currencies
By VanEck

Dec. 30 2016, Updated 4:35 p.m. ET
VanEck
Extreme volatility in some emerging markets currencies impacted the local currency sovereign space, which declined 7%, with 5% attributable to currency depreciation and the remaining 2% from higher local rates. Within local currency bonds, Turkey and Mexico stood out as laggards in U.S. dollar terms due to the large selloff in their currencies. Although not immune to the broad weakness in emerging markets currencies, Russian and Colombian bonds were the best performers (although still negative for the month), with the former expected to be more insulated from Trump's foreign policies, and the latter benefitting from a renewed peace deal with FARC (The Revolutionary Armed Forces of Colombia) and posting small positive returns in local terms. In addition, both Russia and Colombia rely heavily on commodity exports and their local bonds received some support from the increase in oil prices that resulted from OPEC's (Organization of Petroleum Exporting Countries) announced production limits.
Article continues below advertisement
Market Realist
Local currency emerging bonds impacted by volatility in EM currencies
In the emerging market bond (EMB) (EMAG) (IGEM) space, local currency sovereign debt offers a better yield than other bond classes. It's a government bond denominated in the domestic currency of an emerging market issuer. Year-to-date, the local currency bond outperformed its developed market (IHY) counterparts and also other emerging market bonds returning 14%. However, Donald Trump's surprise presidential win and the rising dollar called for a sell-off in most emerging market currencies like Mexico and Turkey. It impacted the performance of the local currency bonds. The above chart shows the same.
The Mexican peso fell 9% against the US dollar on November 9 after Donald Trump's surprise victory. It was mainly led by fear of Trump's plan to propose tax imports from Mexico and renegotiate the terms of the North American Free Trade Agreement—a free trade agreement between the US, Canada, and Mexico. Many other emerging market currencies also fell after the election results.
In a report to clients, Paul Mackel, head of EM Currency Research at HSBC Global Banking and Markets, mentioned, "The peso has been at the forefront of the post-US electoral sell-off. The outlook will depend largely on how these (trade) policies play out, although we see domestic risks of weakened growth, rising inflation and Pemex pension liabilities putting downside pressure on the peso."
Which emerging market bonds benefited amid weaker EM currencies?
Despite the decline in emerging market currencies, export-dependent countries like Russia and Colombia's bonds showed better performances due to higher commodity prices—oil in particular. Other countries like Hungary, Poland, and the Czech Republic saw their currencies strengthening against the dollar.
Are the prospects still looking good for emerging markets (EMLC)? Let's discuss this in the next part.