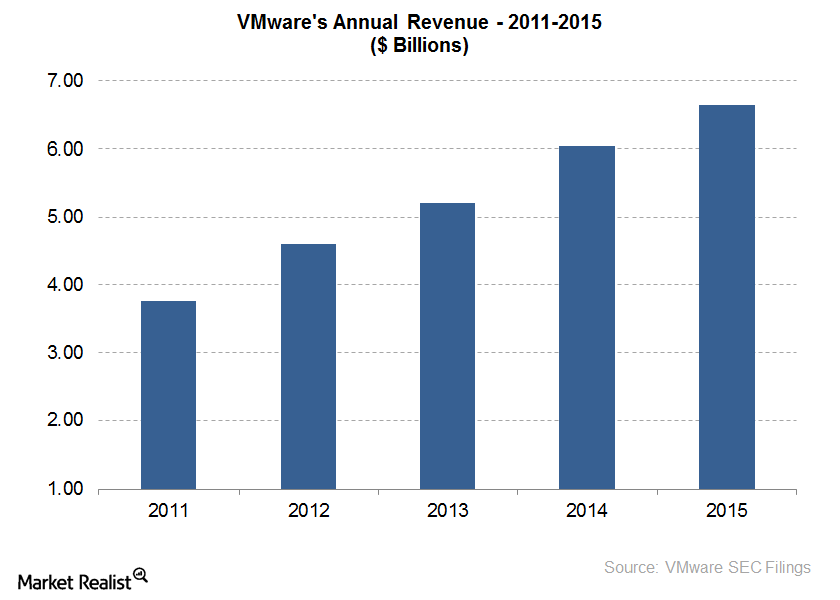 Does VMware Have a Survival Plan in the Cloud Era?
By Ruchi Gupta

Dec. 28 2016, Published 3:09 p.m. ET
VMware sees future in hyperconvergence data centers
As cloud computing shakes up the world of IT, VMware (VMW) is redrawing its map to the future. The company wants to build hyperconvergence data centers to help it overcome cloud disruption and put itself on the path to long-term growth.
In the hyperconvergence data center space, VMware is aiming to build bridges between legacy data centers and the cloud to provide enterprise with seamless access to the two technology environments. If successful, VMware hopes to see its revenues start to soar. VMware's revenues have nearly doubled over the last five years. The company reported revenues of $6.6 billion in 2015.
Article continues below advertisement
Drawing support from Dell
In addition to its expertise in server virtualization, VMware (VMW) is counting on its association with Dell Technologies (DVMT) to make its hyperconvergence dream a reality. Dell acquired VMware's parent EMC Corp. for $60 billion, gaining control of VMware via that transaction. Now, VMware needs the help of its new owner as it charts a new course of survival and growth in an industry being shaken by cloud computing services.
Amazon (AMZN) and Microsoft (MSFT) are the leading vendors of cloud computing resources. With hyperconvergence, VMware is targeting corporations moving to cloud but who are still interested in maintaining traditional data centers. VMware appears to want to streamline the process and cut costs for enterprise hybrid cloud users.
Enterprise mobility
VMware has also brought an element of enterprise mobility to its hyperconvergence project. However, VMware is not alone in pursuing enterprise mobility spending. Apple (AAPL) has teamed up with several enterprise technology vendors such as International Business Machines (IBM) and Cisco (CSCO) to help it sell iPhones to enterprise users. For example, IBM is building enterprise software that can run on the iPhone.
By taking the approach of bridge-building to connect cloud to data centers to mobile, VMware may be less worried about enterprise mobility deals like those involving IBM.