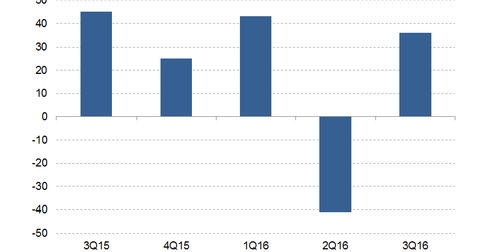 Why Verizon May Soon Lose Its Peace of Mind
By Ruchi Gupta

Updated
10 Gbps Internet is on the way
Altice is plotting an ambitious Internet network upgrade that could make competitors such as Verizon Communications (VZ), AT&T (T), and Comcast (CMCSA) scamper to stem subscriber outflow.
Altice has said that it's working toward replacing its existing broadband networks with fiber capable of supporting 10 Gbps (gigabits per second) of Internet speeds. Verizon offers customers Internet speeds of up to 500 Mbps on its Fios services. Some 36,000 Fios Video connections were added in 3Q16.
Article continues below advertisement
Comcast and Google Fiber, a division of Alphabet (GOOGL), already offer customers in select cities 1 Gbps Internet speeds, with Comcast having a higher-end service of up to 2 Gbps in certain neighborhoods. But Altice's 10 Gbps Internet would shake the earth when rolled out. Altice further says those focusing on 5G networks have a reason to fear because nothing beats fiber.
Verizon and AT&T are some of the internet providers hoping to match broadband speeds with 5G rollout.
Online television services
With the rise of streaming video services such as those offered by Netflix (NFLX) and Amazon.com (AMZN), demand for high-speed Internet has surged and is still expected to continue rising.
But the growing adoption of Internet television services is putting pressure on existing internet networks. While many providers are taking intermediate steps such as offering 1 Gbps Internet speeds in select neighborhoods, Altice hopes to beat them by doing an overhaul of its network. That move should help it grab the attention of video streaming subscribers.
While Alphabet is also a provider of high-speed Internet, Altice's 10 Gbps Internet would be a boon for the company as it would increase the consumption of its services, including subscription video service YouTube Red, yielding more revenue in the process.
Does Altice have the funds for a network overhaul?
Altice expects to fund the huge network upgrade with cost-savings from its streamlined corporate structure. Among other measures, Altice shut down Cablevision's well-oiled research and development center in California to allow it to whittle down costs.