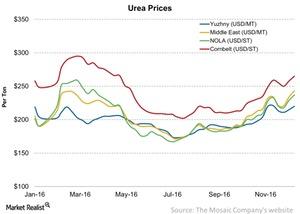 Urea Prices Rose Again in the Week Ended December 23
By Adam Jones

Updated
Urea prices
Urea, which is upgraded from ammonia, is the most globally used nitrogen fertilizer, including UAN (urea ammonium nitrate) and ammonia. For the week ended December 23, the overall movement in urea prices was mostly positive. It's a good idea for nitrogen investors (MOO) to watch the prices of nitrogen fertilizers such as urea.
Article continues below advertisement
Granular urea
As you can see in the above graph, overall granular urea at three locations rose 3.5% week-over-week once again. Prices in the Middle East rose the most. They rose 3.9% to $243 per metric ton from $234 per metric ton week-over-week. Prices in the NOLA (New Orleans) region rose 3.5% to $237 per short ton (or $215 per metric ton) week-over-week.
Prices in the US Corn Belt rose 2.7% to $265 per short ton (or $240 per metric ton) week-over-week.
Urea prices continue to rise. The closure of Chinese anthracite-based producers due to higher production costs impacted urea prices. Nitrogen producers such as CF Industries (CF), Terra Nitrogen (TNH), CVR Partners (UAN), and PotashCorp (POT) will likely benefit if the pressure from China continues to ease. Granular urea prices at the three locations in the above graph rose 2.2% YoY (year-over-year).
Prilled urea
Similar to the price movements in the above locations, prilled urea prices rose 2.3% last week to $220 per metric ton in the Yuzhny area of Ukraine. Prices at Yuzhny fell 9.0% YoY.
Next, we'll look at natural gas prices. Natural gas is a key input required for nitrogen products.