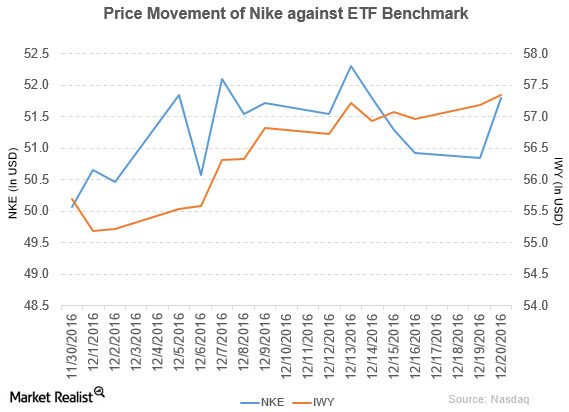 Understanding Nike's Performance in Fiscal 2Q17
Price movement
Nike (NKE) has a market cap of $86.9 billion and rose 1.9% to close at $51.79 per share on December 20, 2016. The stock's weekly, monthly, and YTD (year-to-date) price movements were -0.98%, 1.7%, and -16.2%, respectively, on the same day.
NKE is now trading 1.2% above its 20-day moving average, 1.5% above its 50-day moving average, and 6.3% below its 200-day moving average.
Article continues below advertisement
Nike's performance in fiscal 2Q17
Nike reported fiscal 2Q17 revenues of $8.2 billion, which represents a YoY (year-over-year) rise of 6.4%, as compared to revenues of $7.7 billion in fiscal 2Q16. Revenues from its Footwear, Apparel Brands, and Global Brand divisions rose 5.0%, 7.3%, and 16.7%, respectively, YoY in fiscal 2Q17.
The company's gross profit margin narrowed 140 basis points YoY in fiscal 2Q17 due to increases in product costs, the negative impact of foreign exchange, and a rise in off-price sales, partially offset by an increase in selling price.
Net income and EPS
Its net income and EPS (earnings per share) rose to $842.0 million and $0.50, respectively, in fiscal 2Q17, as compared to $785.0 million and $0.45, respectively, in fiscal 2Q16. The rise in EPS was due to an increase in revenue and a fall in weighted average diluted common shares outstanding, partially offset by a fall in gross margins,
Nike's cash and cash equivalents and inventories rose 12.7% and 9.4%, respectively, YoY in fiscal 2Q17. Its current ratio rose to 3.1x in fiscal 2Q17, as compared to 3.0x in fiscal 2Q16.
In fiscal 2Q17, Nike repurchased a total of 17.0 million shares worth ~$900 million under its $12-billion share repurchase program.
For an ongoing analysis of this sector, please visit Market Realist's Consumer Discretionary page.