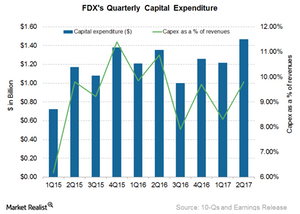 Understanding FedEx's Capital Expenditure in Fiscal 2017
By Samuel Prince

Updated
FedEx's capital expenditure
In fiscal 2Q17, FedEx (FDX) incurred a capital expenditure or capex of ~$1.5 billion, which represents 9.8% of its total revenues of $14.9 billion for the quarter.
Article continues below advertisement
Capex by segment 
FedEx's Express segment dominates in terms of capital spending, with a 53.7% share of the company's total capex. The Ground segment accounted for 27.6% of the total capex in fiscal 2H17. If we divide up FDX's capex in 1H17, aircraft and related equipment accounted for 38.6%, while package handling and ground support equipment accounted for the remaining amount.
FedEx Express's overall aircraft fleet has diminished from 650 in 2014 to 643 in 2016. The company is expecting the delivery of 12 Boeing (BA) 767F in fiscal 2017. However, there are 16 Boeing MD10 and MD11s that are set for lease expiry or to be retired during the same period. This would further decrease the number of aircraft in FDX's fleet to 639. From 2018 onward, FDX will have incremental aircraft in its fleet each year until 2021, when 14 aircraft are set to retire or lease expire.
Capex outlook
In fiscal 2017, FedEx plans to spend $5.6 billion on capital assets, including the proposed integration capex of $100 million required for the TNT integration in fiscal 2017. The company expects to fund the proposed capital investments from its cash flow from operations. Its fiscal 2017 proposed capex includes investments in network expansion in the Ground segment in view of the e-commerce boom.
The company's desired line of capex is 6%–8%. However, given the re-fleeting exercise undertaken by FDX along with the TNT integration, the company expects higher spending on capital assets going forward.
Peer group capital spending 
FedEx spends roughly 8% of its revenues on capital asset acquisition. Its close rival, United Parcel Service (UPS) spends only 4.3% of revenues, mainly due to the relatively young aircraft in the company's fleet. Below is a breakdown of the capital spending as a percentage of revenue by FDX's peers in 2015:
Investors interested in indirect investments in the transportation sector might consider the First Trust Industrials-Producer Durables AlphaDEX Fund (FXR). Major US airlines and prominent railroads make up 15.8% and 5.1% of FXR.
In the next part, we'll go through FedEx's outlook on its prized possession, TNT Express.