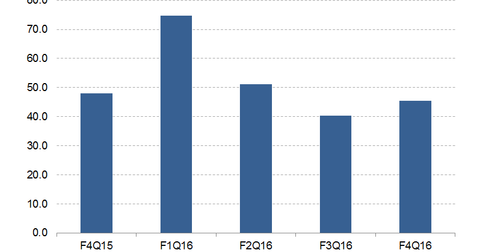 Unanswered Questions in Apple's iPhone 6S Battery Replacement
By Ruchi Gupta

Updated
iPhone 6S is shutting down unexpectedly
Apple (AAPL) is replacing batteries for customers whose iPhone 6S smartphones shut down unexpectedly. China is one of the markets where customers have reported the problem, according to a Wall Street Journal report.
Apple's response to replace the faulty battery in the iPhone 6S came less than a week after Chinese consumers raised the alarm. Apple took measures to stem the potential fallout in China, a key iPhone market.
But Apple investors can only hope that the iPhone 6S battery problem won't lead to a massive product recall as Samsung (SSNLF) has been forced to do. Samsung recalled millions of Galaxy S7 smartphones and halted the sale of the device over fears that its battery posed the risk of exploding.
Article continues below advertisement
When did Apple discover the shutdown problem?
Apple has already ruled out safety concerns over the iPhone 6S shutdown problem. But there are still several unanswered questions that could keep investors on edge.
For instance, Apple hasn't revealed how it concluded that the shutdown problem is caused by a faulty battery. The company has also not said when it discovered the problem. Apple has stated that only the iPhone 6S devices manufactured in September 2015 and October 2015 have the unexpected shutdown problem. But the company didn't explain how it arrived at that conclusion.
In the absence of an official clarification from Apple, the company has given way to speculation. Some have claimed that it may have used a different battery or a battery from a different supplier in the iPhones 6S devices that have the shutdown problem.
Apple avoids phone carriers in battery replacement program