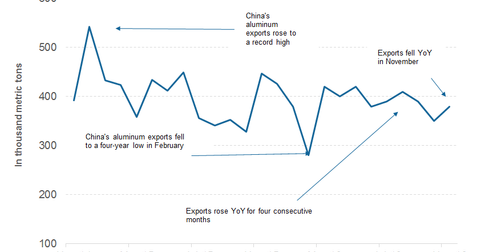 What Could Trump's Presidency Mean for Alcoa and Aluminum?
By Mohit Oberoi, CFA

Dec. 16 2016, Updated 9:05 a.m. ET
Trump's presidency
China's aluminum demand indicators have been stable over the last few months. It supported aluminum prices and producers' price action like Alcoa (AA), Century Aluminum (CENX), and Norsk Hydro (NHYDY).
However, there are concerns that China's economic growth rates could be impacted when Donald Trump takes office. Trump's tough stance on imports from China could be negative for the Chinese economy. Exports are a key pillar of the Chinese economy. They helped pull millions of people out of poverty in the country. China's growing middle class has been a key driver of global aluminum demand.
Under Trump's presidency, if the US (SPY) decides to get tough on Chinese imports, we could see an impact on the Chinese economy. It remains to be seen whether the expected rise in US aluminum demand could balance out any fall in Chinese aluminum demand (ACH).
Article continues below advertisement
Silver lining
If Trump "gets tough" on Chinese imports, China could increase its infrastructure investments to support its own economic activity. Higher infrastructure investments in China would support the country's aluminum demand.
Another fallout of a trade war with China could be the depreciation of the yuan. Remember, currency devaluation would help make Chinese exports more competitive. Currency devaluation would only intensify the trade war.
Notably, China's steel and aluminum exports have been a key bone of contention with its trading partners. As frictions grew between China and its trading partners, we started to see some moderation in its steel and aluminum exports. China's steel and aluminum exports fell year-over-year in the first 11 months of 2016. It supported metal prices.
The risk of higher Chinese supply continues to loom over global markets given the massive overcapacity in the country. We'll discuss this more in the next part.