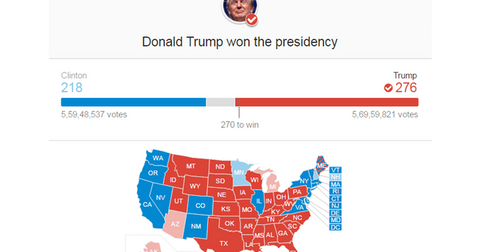 What Donald Trump's Presidency Means for Comcast
By Shirley Pelts

Updated
Comcast's expectations from the Trump presidency
On November 9, 2016, the US election results were announced, and the Republican presidential candidate, Donald Trump, was elected as the 45th president of the United States.
The Republican Party now controls both the House of Representatives and the Senate, which means that many regulations could be eased or changed under Trump's presidency. Changes in regulations could affect various sectors, including the energy, pharmaceutical, finance, and technology sectors.
Article continues below advertisement
Comcast (CMCSA) was asked about its opinion on how Trump's presidency and policies are likely to affect it at the UBS Global Media and Communications Conference. Comcast stated that it remained optimistic that the Trump administration's business policies would be beneficial for it and for the US economy.
The company also stated that it would like corporate tax reforms that would benefit businesses in the United States. It further stated, "A lot of the things that are talked about in terms of corporate taxes we'll see, but obviously we're a high cash taxpayer. We invest a lot of capital in businesses and the relatively low average, so it feels like when this all happens we'll both have, hopefully, the second-order effects and first-order effects that could be beneficial to us."
US stock market
The US stock market saw the highest gains under former Republican president Gerald Ford in the 1974–1977 period. During his tenure, the S&P 500 rose by an annual average of 18.6%. However, former Democrat presidents Bill Clinton and Barack Obama had the second- and third-best returns for the US stock markets under their tenures. The US stock market rose by annual averages of 14.9% and 12.6%, respectively, under their presidencies.