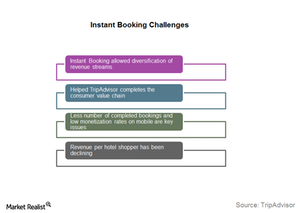 TripAdvisor's Tough Road after Joining Instant Booking
By Ally Schmidt

Updated
Why Instant Booking made sense
TripAdvisor (TRIP) found a huge customer base for its hotel review product, as travelers want to read about the experiences from other customers before booking a particular hotel. However, as a travel metasearch site, TRIP made money through online ads, deriving 46% of its 2015 revenues from Priceline (PCLN) and Expedia (EXPE).
Introducing the Instant Booking feature made sense in two ways. One, it allowed diversification of revenue streams. Two, it completes the consumer value chain—from reviewing and searching hotels to allowing consumers to book directly on its site seemed to be a natural way forward.
Article continues below advertisement
Challenges
Changing any behavior is a difficult task, and TripAdvisor is trying to do just that with its Instant Booking platform. Despite its Instant Booking platform making good business sense for TRIP, asking customers to book on TripAdvisor's site itself instead of moving to other OTAs could be a challenge.
Another issue has been the low monetization rates on mobile platforms. Mobile browsing has gone up tremendously. However, there are fewer bookings completed on mobile as compared to on desktops. Also, the mobile shopper seems more price conscious than the desktop shopper. As a result, revenue per hotel shopper has been declining since Instant Booking's rollout.
Instant Booking is the biggest driver for TRIP's hotel revenue, forming 80% of its revenues.
Playing the long-term game
TripAdvisor's (TRIP) management had already warned that revenues could remain muted in 2016. The company expects Instant Booking to take a path similar to its metasearch change, which dipped before recovering again.
TripAdvisor's CEO, Stephen Kaufer, reiterated the fact that Instant Booking is its long-term game. Through Instant Booking, TripAdvisor is trying to improve its end-to-end user travel experience.
Despite this warning, users have been concerned about TRIP's key metrics, especially as Instant Booking's user acceptance remains low. Next, we'll take a look at these metrics.
TripAdvisor forms 2% of the holdings of the First Trust Dow Jones Internet Index ETF (FDN), which also invests in Expedia (EXPE), but not in Priceline (PCLN) or Ctrip (CTRP).