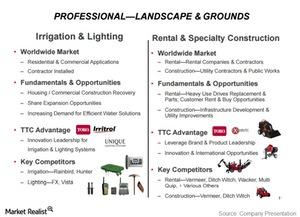 What Did Toro Say about Its Regnerbau Acquisition?
By Shannon Black

Dec. 4 2020, Updated 10:53 a.m. ET
Toro acquires Regnerbau Calw
On November 3, 2016, The Toro Company (TTC) announced that it had entered into an agreement to acquire Regnerbau Calw, a privately held manufacturer of professional irrigation (MOO) equipment. The deal is expected to close in Toro's fiscal 1Q17. Toro hasn't disclosed the terms of the transaction. 
Regnerbau manufactures rain guns for industrial applications and sprinklers for sports and agricultural fields. These sprinklers are used for maintaining natural and synthetic turfs used in sports such as football, cricket, tennis, rugby, and golf.
Article continues below advertisement
Management commentary
The managements of both Toro and Regnerbau extolled the virtues of the acquisition. They offered the following commentary in a press release: "'The addition of the Perrot portfolio helps expand Toro's presence in the sports field and agricultural industries, while also growing our position in adjacencies to our core businesses,' said Rick Olson, Toro's president and chief executive officer. 'This acquisition is consistent with our strategy to grow in the professional, water and global markets, and provides an expanded offering of professional irrigation solutions to better serve our customers.'"
The release continued, "'With over 90 years of experience in the irrigation industry, the Perrot team will be a great fit with Toro as both companies share similar cultures and a commitment to manufacturing high-quality, professional irrigation products and providing exceptional service to customers,' said Alexander Fleig, general manager of Regnerbau Calw GmbH. 'We believe that the acquisition by Toro will help expand our global footprint and take our business to the next level.'"