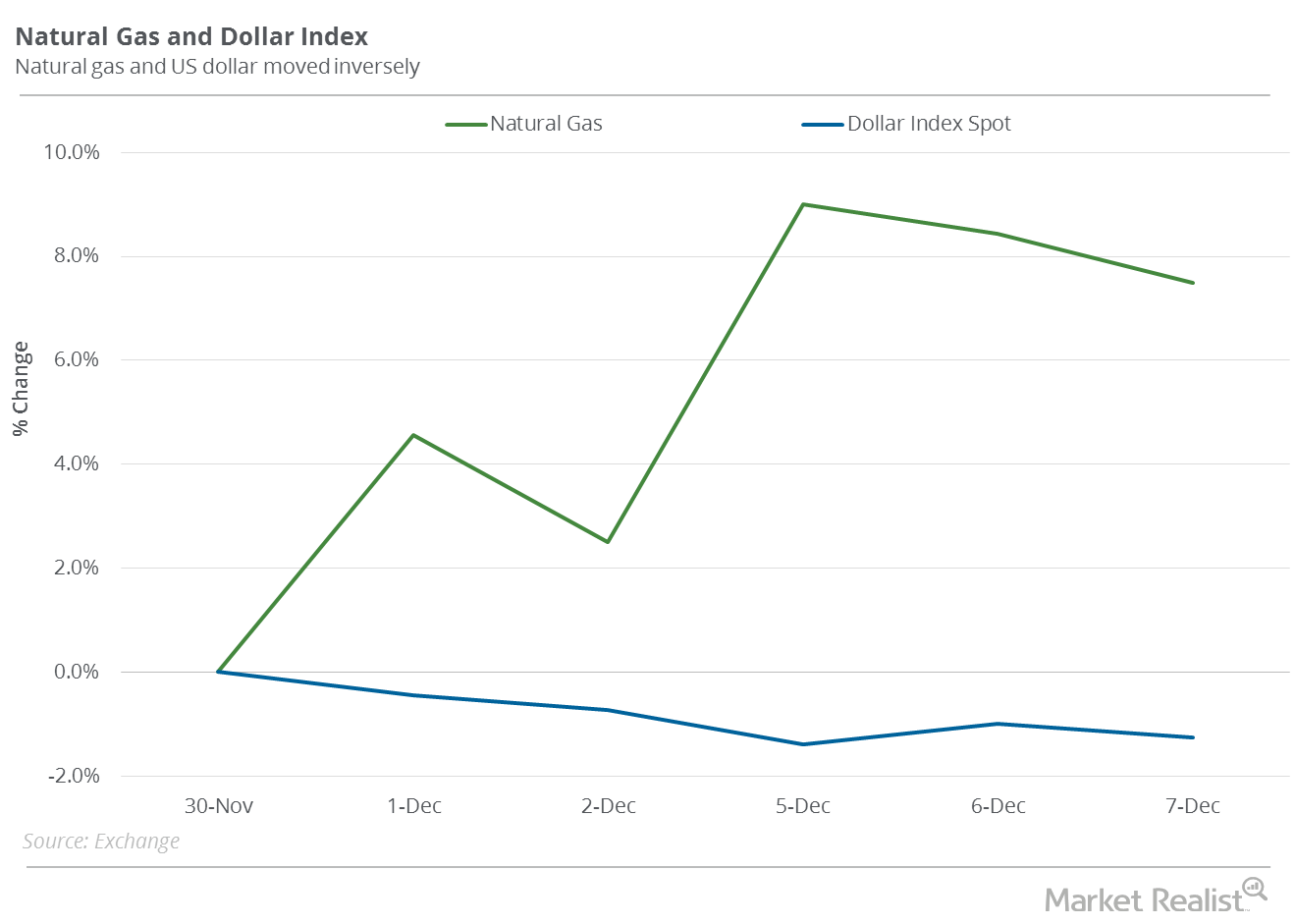 Is the Stronger US Dollar Impacting Natural Gas Prices?
Natural gas and the US dollar
In the past five trading sessions, natural gas futures and the US Dollar Index moved in opposite directions three out of five times. The correlation between the two over the past five trading sessions was -65.9%. So, there was an inverse quantitative relationship between them during that period.
Article continues below advertisement
When the dollar falls, it makes commodities cheaper for importing countries, which boosts prices. In the past, US natural gas wasn't exported. Historically, there wasn't a relationship between natural gas and the dollar. It will be interesting to see if natural gas and the dollar develop a more long-term fundamental relationship like the one between crude oil and the dollar.
In February 2016, the US started exporting natural gas in the form of liquefied natural gas from the lower 48 states to outside North America. President-elect Donald Trump's aggressive energy policy could lead to higher natural gas production, which could boost natural gas exports. His policies could also mean the return of coal as a source of fuel for power generators. It would make even more gas available for exports.
So, natural gas prices could develop a relationship with the US Dollar Index that's similar to the relationship between crude oil and the US Dollar Index.
Natural gas price movements
On March 3, 2016, natural gas futures closed at $1.64 per million British thermal units—a 17-year low. From March 3, 2016, to December 7, 2016, natural gas active futures rose ~119.7%, while the US Dollar Index rose 2.7%. During that period, the US Dollar Index and natural gas prices moved in opposite directions based on the closing prices in 103 of 194 trading sessions. The correlation was -12% during that period. It shows the lack of a relationship between the two over a longer period.
So, other factors—like the weather—are likely contributing to movements in natural gas right now.