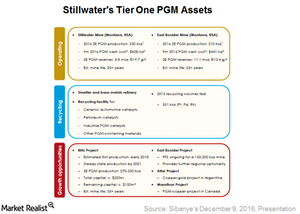 Are Stillwater Mining's Assets Value Accretive for Sibanye Gold?
Stillwater Mining
Stillwater Mining (SWC) is the only US-based (SPY) miner of PGM (platinum-group metals) (PPLT) and the largest producer outside of Russia and South Africa. It also has a refining and recycling facility for large-scale PGM.
Stillwater's financial performance is closely related to the price of palladium (PALL) and, to a lesser extent, platinum. In 2015, Stillwater produced ~521,000 ounces of PGM, with palladium accounting for 77.0% of that production. The remainder was from platinum at its two Montana mines—Stillwater and East Boulder.
These mines also have lower costs than PGM operations for Sibanye Gold (SBGL). The Stillwater mine had a cost of $428 per ounce, while East Boulder had a cost of $441 per ounce over the last nine months.
Article continues below advertisement
Long-term production upside
Stillwater is ramping up Blitz, a new project and its main development asset. The company expects the first product from it in mid-2018. However, it will take several years for the mine to fully ramp up. After that, the project is expected to contribute 270,000–330,000 ounces to annual production. The company also maintains that the ounces from Blitz will be its lowest cost ounces due to high-grade and infrastructure-sharing benefits.
The company also has the Columbus metallurgical complex, which is capable of providing smelting and refining processes for mine concentrates. It also facilitates recycling operations for various materials containing PGM.
During the December 9, 2016, conference call, Sibanye's CEO (chief executive officer) Neal Froneman said, "As far as we can tell, [it's] the largest recycler in the PGM business in the world as well."
Other PGM players
Anglo American Platinum (ANGPY) and Impala Platinum Holdings (IMPUY) are South Africa–based platinum producers. They produce palladium as a by-product. Russian-based Norilsk Nickel (NILSY), on the other hand, is the largest producer of nickel and palladium.
Now that we've looked at Stillwater's assets, let's move on to see what benefits Sibanye could see from the acquisition.