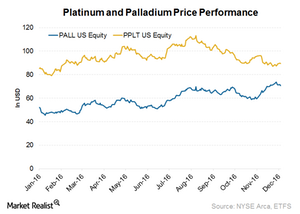 Sibanye's and Stillwater's Take on Platinum-Group Metals Prices
Sibanye Gold and platinum-group metals
Sibanye Gold (SBGL) admits that while the platinum market remains challenging, it isn't very different from what it originally thought it would be. The company still doesn't see demand as an issue, but oversupply could be a problem in this space.
However, Sibanye remains confident that the Rustenburg mine should see the company through these challenging times in the platinum market.
Understandably, Sibanye Gold is more upbeat about palladium price (PALL) fundamentals. It has become bullish on palladium in the last six to nine months. It's worth noting that palladium has outperformed other precious metals year-to-date.
Article continues below advertisement
While palladium prices have risen 33.0%, platinum and gold prices have risen 5.0% and 8.0%, respectively. Sibanye concurs with analysts' views on palladium. The company has modeled higher prices of palladium into the acquisition of Stillwater Mining. But it said that the price estimates are more in line with the market consensus and therefore most likely conservative.
Stillwater is optimistic on palladium
Stillwater Mining's (SWC) management believes that the underlying industrial demand for palladium remains strong, with structural deficits in the palladium market. Overall, management is more positive on palladium than platinum.
The positive outlook on palladium could support companies such as Stillwater Mining and Norilsk Nickel (NILSY), which mainly produce palladium.
Article continues below advertisement
Impact on company performance
Since the majority of Stillwater Mining's production and revenues comes from palladium (PALL), its performance is tied to the price of palladium and, to a lesser extent, platinum (PPLT). The company mentioned that a 1.0% change in the company's average realized price for palladium and platinum would result in a change of $36.1 million in net income before tax and $3.8 million in cash flows from operations.
Sibanye's CEO (chief executive officer) Neal Froneman said in a conference call on December 9, 2016, that Stillwater covers its capital costs and generates cash flow at spot palladium prices. Stillwater's unit costs are also lower, so Sibanye is confident that this acquisition will help its platinum division move down the global cost curve.
In the next part of this series, we'll take a look at Stillwater's assets and what could help Sibanye's fundamentals in the future.