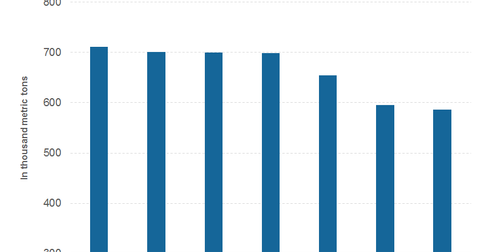 Should You Expect a Turnaround in Alcoa's Production Profile?
By Mohit Oberoi, CFA

Dec. 19 2016, Updated 10:35 a.m. ET
Alcoa's aluminum production
Alcoa (AA) has an iconic past. The company was the world's second-largest aluminum producer in 2007, but last year, it was ranked fourth.
Article continues below advertisement
Falling production profile
While aluminum producers (XLB) such as Rio Tinto (RIO) and Aluminum Corporation of China (ACH) have been ramping up their productions, Alcoa and other US-based aluminum producers such as Century Aluminum (CENX) have been curtailing their high-cost capacities to survive the prolonged slump in commodity prices. In 2016, US aluminum production is expected to fall to levels seen after World War II, according to Reuters.
Mexican wall
Building a wall on the Mexican border was among Donald Trump's key election promises. The United States has already opened an investigation into the alleged transshipment of Chinese aluminum products through Mexico. A Chinese company called Zhongwang is alleged to have routed its aluminum products through Mexico to evade the stiff US duties in place for direct imports from China.
The Mexican wall, in the form of trade action, could help to reduce the influx of aluminum in the US market, which could support US aluminum production. While we still don't know much about Trump's proposed wall, trade action could do the trick for Alcoa.
US-based aluminum producers could also benefit from Trump's proposed infrastructure investments, since one would assume that any steel and aluminum used in new projects would be US made.
Meanwhile, there are concerns that Trump's economic policies could trigger a global trade war. We'll discuss this further in the next article.