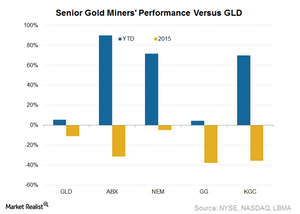 Senior Gold Miners That Could Outperform after the Rate Hike
By Anuradha Garg

Dec. 16 2016, Updated 3:05 p.m. ET
Senior gold miners
Senior gold miners are large miners with established positions. They're usually less risky, with highly liquid stocks. While the performances of these miners differ due to company-specific factors, as a group, they usually follow gold prices.
Among all the subcategories of precious metal miners, senior gold miners have the strongest correlation with gold prices, at 0.96 from 2013 until the present.
YTD (year-to-date) as of December 14, 2016, these companies have closely followed gold prices, with a correlation of 0.92. Because they're large, stable entities, they tend to amplify gold's price movements.
Article continues below advertisement
Leveraged exposure
That said, these senior miners' performances have diverged from those of gold and other precious metals, depending on their operating and financial leverages and other company-specific issues.
Barrick Gold (ABX), Newmont Mining (NEM), Goldcorp (GG), and Kinross Gold (KGC) make up a substantial 28.2% of the holdings of the VanEck Vectors Gold Miners ETF (GDX). All except Goldcorp have outperformed the broader gold miner's index.
Barrick, Kinross, and Newmont have risen 90.0%, 70.0%, and 72.0%, respectively, YTD. Goldcorp has risen just 5.0%. Operating issues and a guidance downgrade were the reasons behind Goldcorp's underperformance. Overall, however, senior gold miners have outperformed.
In the same time period, GDX and gold prices (GLD) have risen 41.0% and 6.0%, respectively. Note that the iShares MSCI Global Gold Miners ETF (RING) represents an alternative way to invest in gold miners.
Higher interest rates and senior miners
Barrick Gold and Kinross Gold are more leveraged to gold prices than other senior miners, mainly because of Barrick's high financial leverage and Kinross's operational leverage. For an in-depth look at this outperformance, check out Why Did Barrick and Kinross Outperform the Senior Gold Peers?
If the interest rate trajectory goes higher in 2017, gold prices could remain weaker. Under those circumstances, stocks with a higher gold price leverage could underperform the whole sector. It would be a good idea to pick up quality names with strong fundamentals under a weaker gold price environment.
Barrick Gold's fundamentals have been improving, along with a reduction of its debt. Newmont Mining is also reducing its financial leverage. Its project pipeline remains strong, which should support long-term production growth at lower unit costs. For more on this, please refer to our series on the fundamentals of Barrick, Newmont, and Kinross.
It's also worth noting that while Goldcorp currently offers a lower leverage to gold prices, most of its fundamentals are in place, possibly making it an attractive long-term bet.
Be sure to read Are Senior Gold Miners Skilled at Handling Market Volatility? to gain more insight into individual senior miners and the market sentiment around them.
Next, let's take a look at intermediate gold miners and their performances compared to gold and other gold miners.