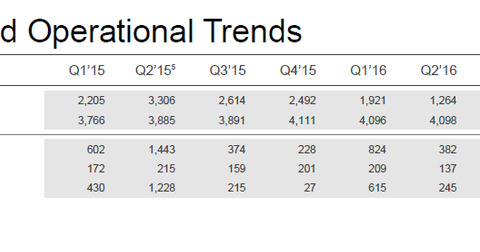 Why Seagate Is Focusing on Streamlining Capital Expenditure
By Adam Rogers

Updated
Capital expenditure at 5% of revenue
As Seagate continues to manage the shift in its product portfolio and customer demand, the company is aligning the operating model of its HDD business to optimize its manufacturing footprint. Seagate stated that it now wants to reduce capital expenditure in order to maintain capital requirement levels at approximately 5% of total revenue in fiscal 2017. This move should allow Seagate to operate at or near full capacity.
Seagate will now cater to meeting customer demand instead of managing excess capacity. The firm believes that cost alignment activities, coupled with its high-capacity HDD product portfolio, will positively impact gross margins and overall profitability in fiscal 2017.
Capital expenditure of $140 million in fiscal 1Q17
Article continues below advertisement
In fiscal 1Q17, Seagate's (STX) capital expenditure was $140 million. CFO Dave Morton stated that capital expenditure was for "maintenance capital, supporting the acceleration of the ramp of new products in our portfolio that utilize new tooling and equipment, and the accelerated expansion of our Korat facility to expedite the planned manufacturing footprint reductions across many sites."
In fiscal 2016, Seagate's total capital expenditure was $587 million, or 5% of revenue. This total was below the company target range of 6% to 8%. Capital expenditure in fiscal 4Q16, which ended in June 2016, was $146 million and higher than previously forecasted.