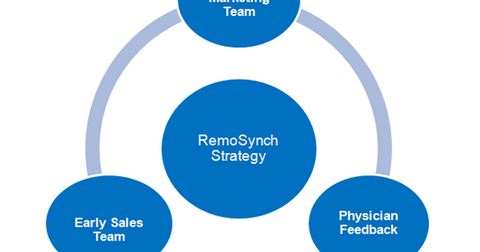 United Therapeutics: Will RemoSynch Become a Key Growth Driver?
By Margaret Patrick

Updated
RemoSynch's growth prospects
United Therapeutics (UTHR) has developed a targeted strategy for a successful launch of its investigational drug device combination, the RemoSynch implantable pump system. This launch is expected in 1H17.
If RemoSynch is widely accepted by physicians and patients, it may have a positive impact on United Therapeutics stock as well as the First Trust NYSE Arca Biotechnology Index Fund (FBT). United Therapeutics makes up about 4.2% of FBT's total portfolio.
Article continues below advertisement
Sales and marketing team
United Therapeutics has restructured its marketing and sales team to offer services across the continuum of care for pulmonary arterial hypertension (or PAH). This involves marketing oral drugs Adcirca and Orenitram, in earlier stages of PAH, and Tyvaso and Remodulin in later stages of the disease. United Therapeutics previously had two branded sales teams, one United Therapeutics branded sales team and other biotechnology sales team. However, the new strategy of having a single branded sales team is expected to prove beneficial in successfully launching RemoSynch, and positioning the product across the care continuum.
Entry sales team
United Therapeutics has prepared an early sales team to prepare for launches of its new products. The RemoSynch launch is expected to benefit due to this sales team as it comprises of highly experienced talent from the company. New product launches are expected to enable United Therapeutics to compete effectively with other cardiovascular players such as Novartis (NVS), Merck (MRK), and GlaxoSmithKline (GSK).
Physician feedback
The strong safety profile of RemmoSynch and its potential to improve quality of life for end-stage PAH patients are expected to drive increasing adoption of the drug device combination. Physicians have expressed their inclination toward switching patients from ex-vivo system to the new implantable system. However, for new end-stage PAH patients, physicians claim they will use Remodulin ex-vivo system to confirm patients' tolerance towards Remodulin. After this, they too will shift to the RemoSynch system.