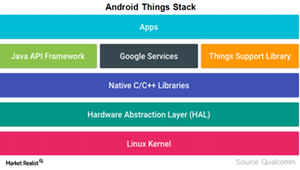 How Qualcomm and NXP Could Benefit from Google's Android Things
By Puja Tayal

Updated
What is Android Things?
In the previous part of the series, we saw the steps taken by NXP Semiconductors (NXPI) to expand in the automotive, industrial, connected devices, and IoT (Internet of Things) markets. NXP isn't the only one eyeing IoT. All hardware and software companies are eyeing IoT, which is a fragmented market with no standardized OS (operating system) or hardware.
Looking to tap this market, Google (GOOG) created the Android Things platform by collaborating with developers of IoT processors including Qualcomm (QCOM), NXP, Intel (INTC), and Broadcom (AVGO). Google's Android Things is compatible with the developer boards of the above four companies, eliminating the need to develop connected devices from kernels to applications.
Article continues below advertisement
How will Android Things push growth in the IoT market?
Developing an IoT device involves processors, connectivity technologies, sensors, memory, cloud integration, security, advanced multimedia and user interfaces, and upgrades and services. This creates a huge entry barrier, as there are no standard software tools or OS to support this fragmented market.
Android Things will provide device developers with the Android framework, eliminating the key entry barrier of fragmented OS. Developers can concentrate on their products and leave the low-level software, hardware, and security updates to Google.
How will semiconductor partners benefit from Android Things?
Google is looking to embed Android Things inside IoT processors. It will integrate its Android Things launch version in five specific SOM (system-on-a-module) packages. These packages will include NXP's Pico and Argon iMX 6UL boards, Intel's Edison and Joule modules, and Broadcom's Raspberry Pi 3 module. Moreover, Android Things will also be compatible with Qualcomm's Snapdragon processors.
Qualcomm and NXP dominate the smartphone and automotive space, Intel dominates the industrial IoT space, Broadcom dominates the communications space, Google dominates the online business world, and Google's Android dominates the smartphone space. The collaboration of these giants could help IoT adoption to gain traction and support large volumes of IoT chip sales as the platform matures.
If IoT adoption picks up, IoT chip sales could rise significantly. Qualcomm would likely benefit the most, as it's acquiring NXP. Next, we'll look at the Qualcomm-NXP deal and what it means to NXP.