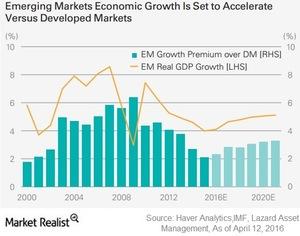 What Are the Prospects for Emerging Markets in 2017?
By VanEck

Jan. 2 2017, Updated 7:37 a.m. ET
VanEck
What's next for Emerging Markets?
The prevailing sentiment post-U.S. election is somewhat pessimistic for emerging markets. The consensus is that fiscal stimulus will more than make up for monetary tightening, spurring a reflationary trend that is likely to occur inside a newly formed bubble of protectionism that will leave many emerging markets without a key engine for growth. Another by-product is that populist/nationalist movements will succeed (as the rejection of the Italian referendum validated in early December) throughout the developed world over the next several years, significantly altering the geopolitical and economic landscape.
Article continues below advertisement
Our view is more nuanced. We believe the prospects for emerging markets in 2017 centers around a few critical questions. One: How will higher U.S. rates, should that trend continue, impact flows? Two: Will the U.S. dollar continue its upward trend on the back of higher rates and a wave of protectionism? And three: Can emerging markets growth continue to recover? Consensus is for growth to accelerate slightly in 2017, but sentiment also appears to be that a fiscally led pick-up in developed markets economies will happen largely in a vacuum as trade relationships are under threat. Given years of progress in the opening of global markets, this last assumption is a difficult one to digest, but it also means that the continued rise of the U.S. dollar is not a foregone conclusion.
Market Realist
Will the dollar rise more in 2017?
A strengthening dollar impacts the emerging bond market's (EMB) (EMAG) (IGEM) (EMLC) performance. Donald Trump's election victory and the December Fed rate hike strengthened the dollar more. Uncertainty started revolving around the performance of emerging market debt due to the recent fall in emerging market currencies.
However, is the rise in the dollar sustainable? In the December 13–14 committee meeting, the Fed pointed at two rate hikes in 2017. How more rate hikes impact the dollar is something to watch in 2017. The above chart from Lazard Asset Management shows how emerging market growth rallied with improved economic fundamentals in 2016. Forecasts from the International Monetary Fund also point towards emerging market economic growth to accelerate more compared to developed markets. Besides dollar growth, Trump's presidential campaign boasted of change in trade reforms. It could impact a few of the export-driven emerging market economies.
Credit Suisse has a positive sentiment for emerging markets in 2017
In a media briefing on its 2017 investment outlook, Credit Suisse shared some optimistic views regarding emerging markets (EEM). Credit Suisse's global head of investment strategy, Nannette Hechler-Fayd'herbe, mentioned that emerging markets have evolved. It has been harder to sustain various international developments over the last ten years. These international events include political uncertainty in Europe and Donald's Trump plan for trade policies.
She added, "(EMs) have a lower exposure to an export-driven (growth) model than is generally assumed. They have a better, balanced-type of growth model."
We'll continue the discussion about prospects of emerging markets in 2017. In the next part, we'll discuss economic fundamentals.