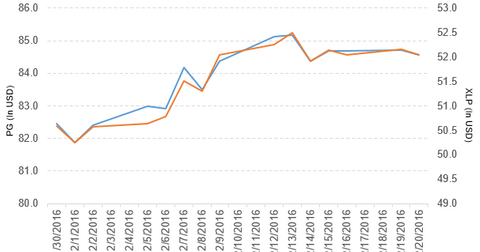 Procter & Gamble's Pantene Brand Announces New Brand Ambassador
By Gabriel Kane

Updated
Price movement
Procter & Gamble (PG) has a market cap of $226.3 billion and fell 0.17% to close at $84.57 per share on December 20, 2016. The stock's weekly, monthly, and YTD (year-to-date) price movements were -0.72%, 3.1%, and 10.0%, respectively, on the same day.
PG is now trading 1.2% above its 20-day moving average, 0.38% below its 50-day moving average, and 1.1% above its 200-day moving average.
Article continues below advertisement
Latest news on PG
On December 20, 2016, Procter & Gamble reported the following: "Actress, film producer and philanthropist, Priyanka Chopra, joins an esteemed roster of strong women around the globe as Pantene's newest Global Brand Ambassador. Pantene stands for 'Strong is Beautiful' and Chopra embodies this by inspiring women across the globe with her inner strength and beauty."
The report also stated: "Chopra will be the face of Pantene's new campaign celebrating the Brand's biggest shampoo breakthrough in 30 years: Pantene Pro-V's new shampoo formulas…[which] fuel hair with the nutrients it needs to be strong from the core to endure the stressors it faces day in and day out."
Pantene is a major brand of the Procter & Gamble's Beauty segment.
Article continues below advertisement
Procter & Gamble's fiscal 1Q17 performance
Procter & Gamble's net sales remained flat at $16.5 billion in fiscal 1Q17. Its 2% rise in its volumes was offset by a -3% impact of foreign exchange fluctuations.
Excluding the impact of acquisitions, divestitures, and currency fluctuations, PG's organic sales rose 3%, mostly due to organic volumes. The company's portfolio transformation strategies and the impact of lower finished product sales to its Venezuelan operations led to a 1% negative impact on its fiscal 1Q17 organic sales growth.
EPS
Procter & Gamble's fiscal 1Q17 adjusted EPS (earnings per share) rose 5.1% on a YoY (year-over-year) basis due to improved margins and tax rate reductions. PG Chief Financial Officer Jon R. Moeller indicated during the company's fiscal 1Q17 conference call that the adoption of new accounting standards for share-based compensation was one of the reasons for the lower tax rate.
The adoption of the new standards had a favorable impact of $0.04 per share on PG's fiscal 1Q17 adjusted EPS. Adverse currency fluctuations had a 7% negative impact on Procter & Gamble's fiscal 1Q17 earnings.
Margins
The company's gross profit margin rose to 51.0% in fiscal 1Q17, as compared to 50.7% in fiscal 1Q16. The company's core gross margin expanded 50 basis points, driven by its productivity efforts and its leverage on volume growth. However, this expansion was offset by unfavorable product mix, investments in capacity and innovation, and higher commodity costs.
In fiscal 1Q17, Procter & Gamble's operating margin remained flat at 22.8% compared to fiscal 1Q16. Its core operating margin expanded 20 basis points, aided by the company's productivity improvements.
Next, we'll discuss Kimberly-Clark (KMB).