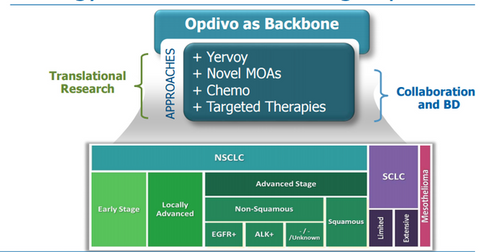 Positive Results from CheckMate-227 Trial May Boost Opdivo's Position
By Margaret Patrick

Dec. 22 2016, Updated 9:06 a.m. ET
Lung cancer segment
In its Phase 3 CheckMate-026 trial, Bristol-Myers Squibb (BMY) failed to establish the efficacy of Opdivo as a monotherapy in the front-line non-small cell lung cancer (or NSCLC) space. However, the company is confident of the potential of combination therapy of Opdivo with its other immuno-oncology drug, Yervoy. BMY is testing this regimen as a first-line NSCLC therapy in a large Phase 3 study—the CheckMate-227 trial.
Article continues below advertisement
The CheckMate-227 trial involves two arms, one with patients whose tumors express PD-L1 and the others with tumors not expressing PD-L1. To include all heterogeneous patients suffering who have lung cancer in Opdivo's label, the company also plans to test combination therapy involving chemotherapy and Opdivo in non-expressor patients who have advanced NSCLC.
Based on data from the CheckMate-227 trial, the company expects to submit its completed application to the FDA by the end of 2017. If the CheckMate-227 trial can publish positive results, it may help Bristol-Myers Squibb (BMY) stock, as well as the Vanguard S&P 500 ETF (VOO). Bristol-Myers Squibb makes up about 0.51% of VOO's total portfolio holdings.
Focus on combination therapies
In addition to lung cancer, Bristol-Myers Squibb (BMY) is also confident of the efficacy of Opdivo-Yervoy combination regimens across multiple types of tumors. The company is also exploring Opdivo in combination with other chemotherapies or targeted therapies for several indications.
These research programs form a part of the company's strategy to strengthen its oncology portfolio and pose tough competition to other players such as Amgen (AMGN) and Eli Lilly (LLY).
Article continues below advertisement
Increasing competition
Bristol-Myers Squibb (BMY) currently accounts for 60%–70% of the second-line NSCLC market share in the US. However, the FDA's approval of Merck's (MRK) Keytruda as a first-line and second-line treatment for metastatic NSCLC patients with tumors expressing PD-L1 may affect Opdivo's future growth trend. In addition to having a first-mover advantage in the first-line NSCLC segment, it may also reduce the total number of patients eligible for second-line treatment with Opdivo.
To determine PD-L1 expression, patients must undergo an FDA-approved test. Patients opting for Keytruda in a second-line lung cancer setting must be retested, even if they were tested before during first-line therapy. While testing is currently performed for 50% of NSCLC patients, the rates are expected to rise gradually, which could erode Opdivo's lung cancer market.
In the final article in this series, we'll analyze Opdivo's revenue performance in the US and international markets.