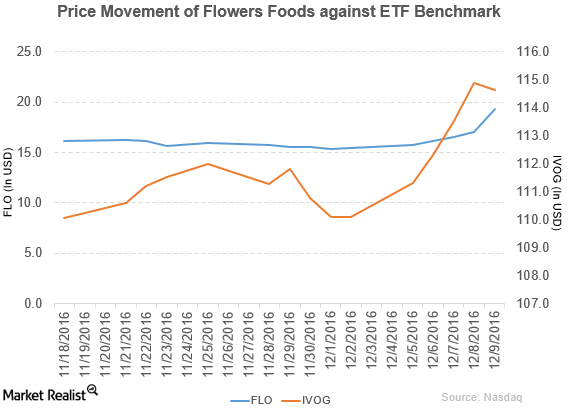 Pivotal Research Upgrades Flowers Foods to 'Hold'
By Gabriel Kane

Dec. 12 2016, Updated 3:05 p.m. ET
Price movement
Flowers Foods (FLO) has a market cap of $4.0 billion. It rose 13.3% to close at $19.30 per share on December 9, 2016. The stock's weekly, monthly, and year-to-date (or YTD) price movements were 24.7%, 22.9%, and -6.7%, respectively, on the same day.
FLO is trading 22.1% above its 20-day moving average, 25.5% above its 50-day moving average, and 14.9% above its 200-day moving average.
Article continues below advertisement
FLO's rating
On December 9, 2016, Pivotal Research upgraded Flowers Foods' rating to "hold" from "sell." It also increased the stock's price target to $17 per share from $4 per share.
According to analyst Tim Ramey, "Flowers Foods settled the Rehberg case for fairly small dollars, $9.0 million covering 270 distributors ($19,260 per route), much lower than we had hoped for and a fairly inconsequential amount to Flowers."
Ramey added, "The lead plaintiff's attorney here has five other suits so one should likely expect a similar settlement in those. But the big-dollar threat to FLO seems like it won't materialize."
Article continues below advertisement
He also said, "Moreover, we have lost confidence that the Department of Labor will make meaningful headway on the misclassification issue given the appointment of Andrew Puzder as the labor department chief. While we continue to believe Flowers is a weak company in a difficult business, it is unlikely in our view that it will be compelled to repurchase all of its routes and trucks. Thus, in our view the existential threat to Flowers is over."
Performance of Flowers Foods in fiscal 3Q16
Flowers Foods reported fiscal 3Q16 sales of $918.8 million, a YoY (year-over-year) rise of 3.8% over $885.3 million in fiscal 3Q15. These higher sales were a result of acquisitions, a rise in the price-to-mix ratio, and a fall in volume.
Sales from direct store delivery and warehouse delivery rose 3.0% and 7.8%, respectively, between fiscal 3Q15 and fiscal 3Q16. The company also reported a pension plan settlement loss of $1.8 million in fiscal 3Q16. Its income from operations fell 70 basis points.
Article continues below advertisement
Flowers Foods' net income and EPS (earnings per share) fell to $40.2 million and $0.19, respectively, in fiscal 3Q16 compared to $43.8 million and $0.21 in fiscal 3Q15. It reported adjusted EBITDA (earnings before interest, tax, depreciation, and amortization) and adjusted EPS of $101.7 million and $0.21, respectively, in fiscal 3Q16. That's a YoY fall of 3.0% and 8.7%, respectively, from fiscal 3Q15.
Projections
Flowers Foods has made the following projections for fiscal 2016:
sales of $3.9 billion–$4.0 billion
EPS of $0.88–$0.93
adjusted EPS of $0.90–$0.95
Next, we'll take a look at Ingredion (INGR).