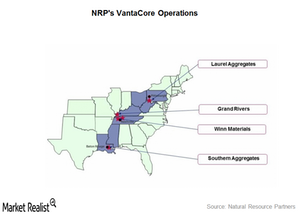 What Do Natural Resource Partners' VantaCore Operations Entail?
By Sheldon Krieger

Dec. 29 2016, Published 3:54 p.m. ET
VantaCore operations
Natural Resource Partners' (NRP) VantaCore is one of the top 25 aggregates producers in the US. VantaCore operations are spread across seven states and control about 400 million tons of estimated aggregate mineral reserves as of December 2016. Its operations include 120 million tons of reserves leased at the Grand Rivers operation from the company's Coal (KOL), Hard Mineral Royalty, and Other segment.
Article continues below advertisement
VantaCore's four operating businesses are Laurel Aggregates, Grand Rivers, Winn Materials/McIntosh Construction, and Southern Aggregates. Laurel Aggregates is a limestone mining company located in Lake Lynn, Pennsylvania. It pays royalties for the material mined and sold from its leased area. Also, Laurel brokers stone for third party quarries located in Ohio and Pennsylvania. Laurel's customers consist of oilfield service companies, natural gas exploration and production companies, and construction and contracting companies.
Winn Material's operations include two crushed stone quarries and a river terminal. In contrast, McIntosh sells asphalt to third parties and operates its own paving business. These businesses sell construction material and provide construction services to residential, commercial, and industrial customers.
The Grand Rivers quarry produces various grades of crushed limestone products and pays royalties for the mined and sold material from this leased property. According to the company's filings, Grand Rivers customers consist of ready mix concrete companies and construction and contracting companies.
Article continues below advertisement
Southern Aggregates is a sand and gravel mining company that operates six sand and gravel plants. Southern Aggregates leases its mineral reserves and pays royalties for the material produced and sold from its leased assets. Its customers include ready-mix concrete companies, asphalt producers, and contractors.
Overall, VantaCore operates four hard rock quarries, one underground limestone mine, six sand and gravel plants, two asphalt plants, and two marine terminals.
Contribution towards Natural Resource Partners' top-line growth
For 2015, VantaCore contributed about $139 million to NRP's top line, accounting for nearly 28% of NRP's consolidated revenues. However, future contributions largely depend on the pace of residential and commercial construction activities surrounding the company's operating regions.
Some of the major aggregate producers in the US include Vulcan Materials Company (VMC), Eagle Materials (EXP), and Martin Marietta Materials (MLM).
Next, let's look at NRP's soda ash business.