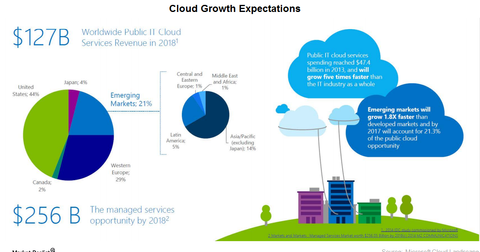 Why Oracle's Focus and Scale in SaaS and IaaS Is Opportune
By Anne Shields

Updated
Cloud spending growth to exceed that of overall IT market
The arrival of SMAC (social, mobile, analytics, and cloud) technology is rapidly changing the IT (information technology) environment, and this has pushed software companies like Oracle make a swift transition toward the cloud.
According to IDC, public IT cloud services' spending is expected to grow at a CAGR (compound annual growth rate) of 22.8%, from $56.6 billion in 2014 to $127 billion in 2018. This would be almost six times the growth rate of the overall IT market. In 2018, public IT cloud services are likely to account for more than 50% of global software, server, and storage spending growth.

Article continues below advertisement
SaaS will dominate growing cloud spending
As the majority of the customer demand lies at the application level, IDC expects SaaS (software-as-a-service) to dominate public IT cloud services spending. SaaS is also gaining popularity due to its potential to offer customized and innovative services. SaaS accounted for 70% of 2014 cloud services spending and will be followed by IaaS (infrastructure-as-a-service).
Meanwhile, developers' adoption of cloud services and big data applications have helped PaaS (platform-as-a-service) and cloud storage offerings become the fastest-growing segments in the cloud. Cloud storage is expected to grow at a CAGR of 31% during this time period.
Oracle's (ORCL) cloud SaaS and PaaS revenue grew 81.4% to $878 million in its fiscal 2Q17 earnings. Oracle's Netsuite acquisition should provide Oracle access to SMB (small- and mid-size companies) and mid-market for its ERP offering, expanding its reach. Notably, while Oracle's Cloud IaaS grew only 6% to $175 million in fiscal 2Q17, the company aims to scale higher in this space with its second-generation Oracle Bare Metal Cloud.
Continue to the next part for a closer look at Oracle's recent SaaS revenues.