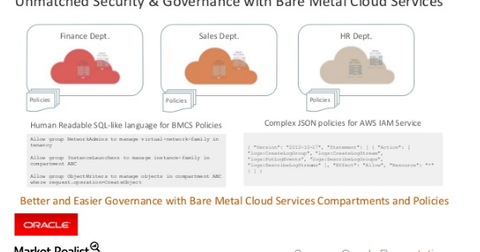 What Will Oracle's Bare Metal Cloud to Peer Offerings?
By Anne Shields

Updated
Oracle targets Amazon's AWS with
Oracle (ORCL) is keen on developing its strength in the cloud IaaS (infrastructure-as-a-service) space, as is clearly visible from the launch of the second generation of its IaaS offering, Oracle Bare Metal Cloud, and the acquisition of Dyn. Oracle Bare Metal cloud needs a special mention as this is the offering on which Oracle has laid its hopes: to outdo Amazon.com's (AMZN) AWS (Amazon web services).
Article continues below advertisement
Oracle Bare Metal Cloud, as the name suggests, is a public cloud that provides bare physical servers wherein customers have the flexibility to run their choice of software. It inter-operates with current Oracle Cloud Platform services. It has been designed and developed by the talents that have worked for Amazon's AWS, Microsoft's (MSFT) Azure, and Google (GOOG).

IBM (IBM) also offers bare metal cloud services. However,  according to Lydia Leong, Gartner's VP and distinguished analyst, Oracle Bare Metal Cloud "is a true software-defined cloud IaaS offering, provisioned in minutes and billed by the hour," which "sets it apart from more hosting-like bare-metal offerings such as IBM SoftLayer, Internap, and Cogeco Peer 1."
Bare metal servers
Bare-metal servers are best suited for big data and analytics, and there is no hypervisor running to create VMs (virtual machines) in bare-metal servers. Here, tenants have access to the physical machine, which enhances the customization as well as the security of environment when compared to virtualized environments.
Bare-metal cloud is thus helpful for high-performance, high IO-intensive, in-memory databases and Big Data workloads like Hadoop. Thus, bare-metal physical data centers are best suited for big data and analytics workloads.