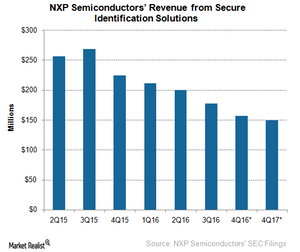 NXP's Secure Identification Solutions Segment a Growth Deterrent
By Puja Tayal

Updated
NXP's exposure in the secure identification solutions market
In the previous part of the series, we saw that uncertainty surrounding growth in the wireless base station market has been slowing NXP Semiconductors' (NXPI) revenue in its Secure Infrastructure segment. Meanwhile, one segment that's been falling for the past four quarters is the SIS (Secure Identification Solutions) segment, which accounted for 7.2% of NXP's 3Q16 revenue.
The SIS business delivers security and privacy solutions to the banking, transportation, and e-government markets. The segment is seeing increasing orders from the transportation and e-government markets, but these orders have been unable to offset the huge falls in the banking market.
Article continues below advertisement
NXP's revenue from SIS
As we can see in the above graph, the SIS segment's revenue has been falling since 4Q15, when it reported its biggest sequential fall of 16.4%. The segment's rate of fall once again reached the double-digits in 3Q16 as China's (MCHI) banking market stayed weak and growth stalled in the United States. Another reason for the revenue fall is that NXP has been selective in choosing its customers due to competitive practices and activities.
In 3Q16, SIS revenue fell 11% sequentially to $178 million. The company expects the segment's revenue to fall another 14% to 16% in 4Q16.
Secure identification solutions market forecast
China's bank card market has slowed, and any demand at this point will likely only come in the form of a replacement cycle. The case is similar in the PC (personal computer) and smartphone market, where the demand from new users has fallen, and most demand comes from upgrades by existing users. While this demand can bring revenue growth, it will likely not be at the same rate as before.
NXP expects its SIS revenue to continue to fall and then stabilize at $150 million in the intermediate period. Even Intel (INTC) and Qualcomm (QCOM) expect revenues from PC and smartphone chips to continue to slow. They don't plan to exit the market, but they do plan to use their technology and expertise to grow in adjacent areas. NXP plans to do a similar thing with its SIS business, as security is a key technology used by the company's other segment.
The automotive, secure infrastructure, and secure connected devices spaces will likely be key growth drivers of NXP's HPMS (high performance mixed signal) products in the future. Next, we'll see how this growth could impact NXP's profits in the short and long terms.