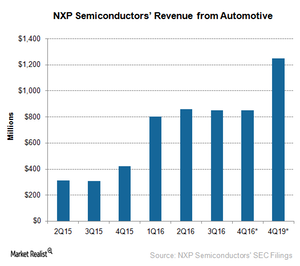 What's NXP's Growth Potential in the Automotive Market?
By Puja Tayal

Dec. 30 2016, Updated 9:06 a.m. ET
NXP's exposure in the automotive market
In the previous part of the series, we saw that NXP Semiconductors' (NXPI) revenue growth slowed in 3Q16. This was mainly due to a slowdown in the automotive segment, which accounts for 34.5% of the company's revenue.
Following its Freescale acquisition, NXP increased its exposure in the automotive space and became the biggest automotive semiconductor supplier in the world. The combined company is a leader in car infotainment, secure car access, in-vehicle networks, two-way secure entry products, and powertrain applications. It accounts for 14.4% of the automotive semiconductor market. NXP is followed by Infineon with a 9.8% share, according to IHS Markit.
Article continues below advertisement
NXP's automotive revenue
The long product cycles in the automotive space should help NXP maintain stable growth momentum, which is visible in the above graph. The company's automotive revenue has been between $800 million and $860 million over the last three quarters, and it's likely to remain within this range in 4Q16 as well.
In 3Q16, NXP's automotive revenue fell 1% sequentially to $853 million as strong growth in the Auto MCU (microcontrollers) and advanced Analog and Sensors segments were slightly offset by weakness in the infotainment space.
NXP's focus area in automotive
In an interview with Indian newspaper The Economic Times, NXP India's country manager, Sanjay Gupta, stated that the automotive industry would grow 15% over the next five to ten years and that this growth would largely be driven by technological innovation. This innovation will likely be led by ADAS (Advanced Driver Assistance Systems), into which NXP is channeling 50% of its R&D (research and development) budget. IHS Markit expects the ADAS chips market to grow at a rate of 14.2% per year between 2015 and 2020.
After ADAS, the second-largest innovation would be in in-vehicle communication through Ethernet, explained Gupta. The use of Ethernet would eliminate the whole wiring system and reduce a car's weight 20%–30%. Moreover, analog would play a key role in digitizing the car.
Automotive market forecast
NXP expects the automotive semiconductor market to grow from $29 billion in 2015 to $36 billion in 2019 as semiconductor content per car increases from $332 in 2015 to $366–$382 in 2019.
Assuming that NXP maintains its market share at 14.5% in 2019, its automotive revenue should rise from $3.4 billion in 2016 to $5.2 billion in 2019, increasing its 4Q19 revenue to $1.2 billion.
Looking at this growth opportunity, Qualcomm (QCOM) agreed to acquire NXP. Even Intel (INTC) and Texas Instruments (TXN) are looking to grow in the automotive space, which made them potential bidders for NXP. Next, we'll look at NXP's second-largest segment: Secure Connected Devices.