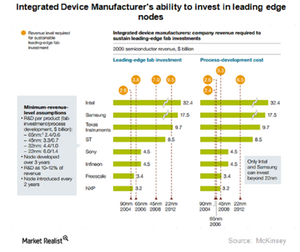 NXP Merger Positions Qualcomm to Tap Automotive Growth
By Puja Tayal

Updated
Future growth opportunities strong for Qualcomm post-NXP merger
In the previous part of the series, we saw that the merger of Qualcomm (QCOM) and NXP Semiconductors (NXPI) will bring several internal and external challenges. Despite these challenges, the merger is welcomed by shareholders and analysts, as the opportunities outweigh the challenges.
NXP is in the future market, targeting the automotive space, especially ADAS (Advanced Driver Assistance Systems) and in-vehicle communication, secured connected devices, and the IoT (Internet of Things).
Article continues below advertisement
Automotive semiconductor market forecast
Markets and Markets expects the automotive semiconductor market to grow at a CAGR (compound annual growth rate) of 5.8% to reach $48.8 billion by 2022. This market growth will likely be driven by a rise in automotive sales, a rise in content per car, and legislation requiring basic safety features to be added in all cars.
McKinsey & Company expects overall global car sales to grow at a CAGR of 2% between 2016 and 2030. However, the automotive semiconductor market is expected to grow more quickly than the automotive market due to a rise in semiconductor content per car. For instance, a standard level of ADAS is becoming mandatory in all cars, increasing the addressable market of ADAS to mid- and low-level cars.
Markets and Markets expects the ADAS market to grow at a CAGR of 10.4% to reach $42.4 billion by 2021. NXP would be the biggest beneficiary of this growth.
Semiconductor content per car
NXP expects its semiconductor content per car to rise from $332 in 2015 to somewhere between $366 and $382 by 2019. According to McKinsey, semiconductor content per car is different for different cars, with the lowest being $50 in compact cars and the highest being $1,000 in luxury cars.
According to McKinsey, semiconductor content is ten times higher in hybrid EVs (electric vehicle) than in internal-combustion engine vehicles, as the former contains electronics for power switching. Infineon expects the semiconductor content per EV to rise to $705 by 2025.
Autonomous cars: The future of automotive
While semiconductor content per car is growing, a whole new innovation is also in development. Many automakers are working on developing fully autonomous cars, a feat that could change the face of the automotive industry and bring strong opportunity for semiconductor and software companies.
NVIDIA (NVDA) is at the forefront of this technology and is working with over 80 automakers in their self-driving car projects. NXP has also developed its Bluebox platform for autonomous cars and is testing it with a few automakers. Intel (INTC) is also developing its technology along similar lines. The first company to successfully develop an autonomous car platform will likely get a first mover advantage and gain a large market share.