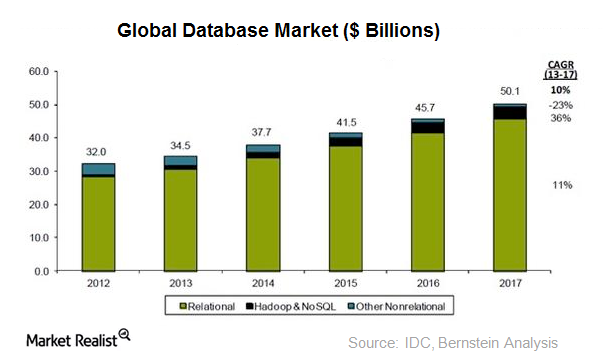 Will NoSQL and Hadoop Pose Threats to Oracle in DBMS?
By Anne Shields

Dec. 20 2016, Updated 7:35 a.m. ET
NoSQL and Hadoop vendors
Despite Oracle's (ORCL) dominance, NoSQL and Hadoop vendors are growing rapidly and making their presence felt. In 2015, five NoSQL vendors—Basho, Couchbase, Datastax, MarkLogic, and MongoDB—with revenues above $25 million in 2015 collectively generated $364 million in revenues.
Notably, three Hadoop specialists collectively generated $323.2 million in revenue in 2015. The table below by IDC and Bernstein shows that, although NoSQL and Hadoop only constituted ~3%of the database market, they are expected to grow rapidly.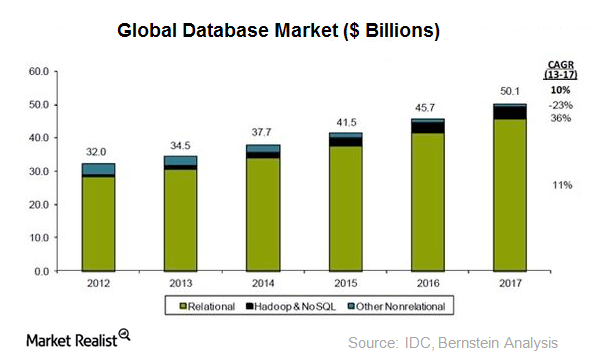 In this collective revenue, revenues from Amazon.com (AMZN), IBM, and Microsoft were not included because they did not disclose the breakup. However, Gartner's estimate shows that Amazon's AWS contributed $833.6 million revenue to DBMS in 2015.
This contribution will improve going forward, given its current growth rate of 33% before the launch of RDS (relational database service) Aurora. Amazon claims that Aurora will enhance the performance and availability of RDS.
Article continues below advertisement
Why NoSQL and Hadoop are popular
NoSQL (Not Only SQL) refers to broad, cloud-friendly classes of databases that are designed to handle semi-structured data. They don't use query language or SQL. Hadoop is an open source, distributed database processing platform, that is designed to store and analyze big data across several thousand nodes.
Both Hadoop and NoSQL are open source, possess high speed, and have a high degree of fault tolerance. They're also cost efficient because they store data in small chunks across several servers. They can process queries fast by sending several queries to multiple machines at the same time. Due to these advantages, leading players in database—namely, Microsoft (MSFT), Oracle, IBM (IBM), Teradata (TDC)—have incorporated them into their own platforms.
Keep reading this series for a discussion of how Oracle's Big Data SQL 3.0 could help it deal with the changing landscape of the DBMS space.