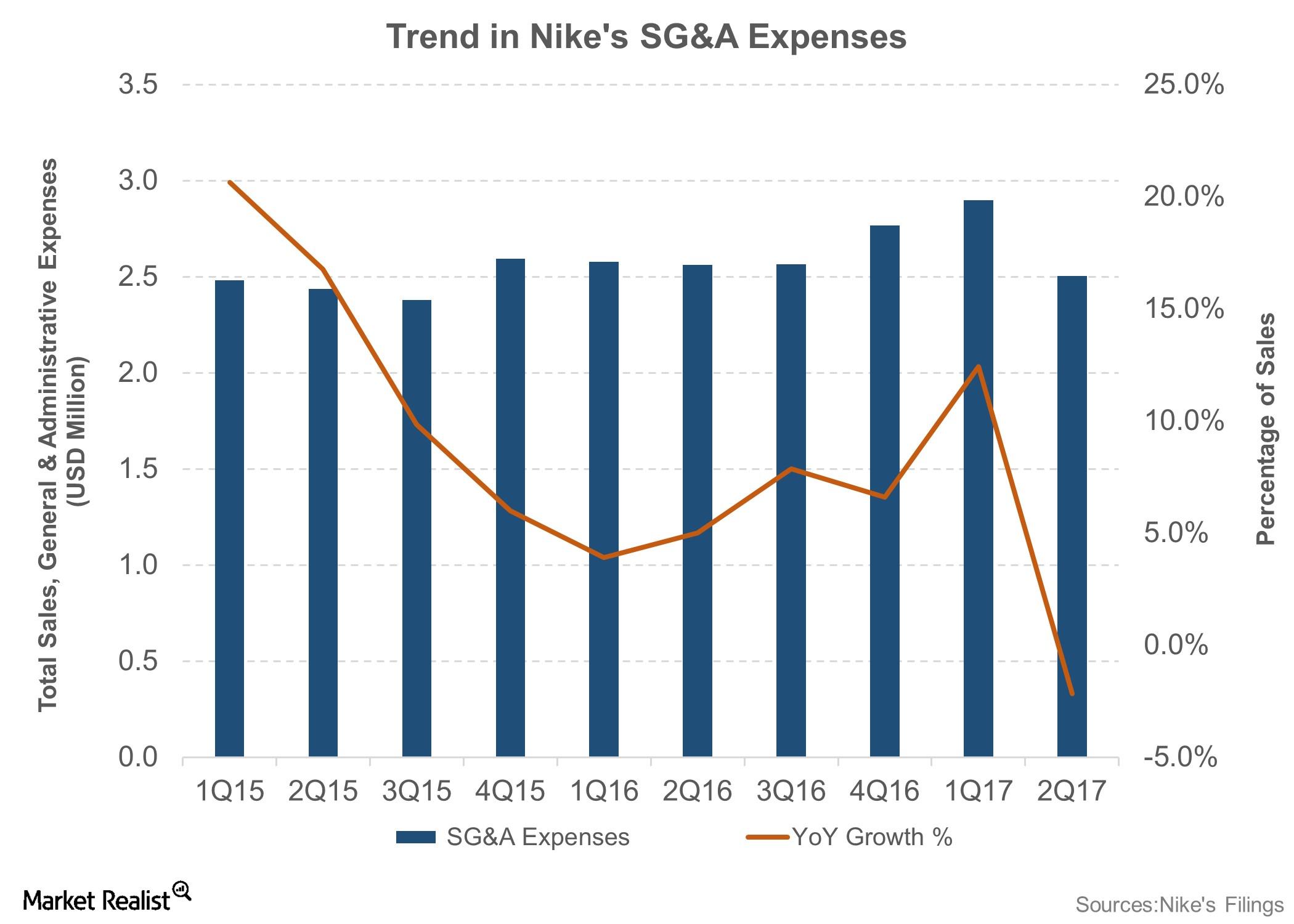 Nike Posted a Beat on Its Fiscal 2Q17 Earnings—Here's Why
Evaluating Nike's fiscal 2Q17 margins
Nike (NKE) posted a strong fiscal 2Q17 as it reported its results on December 20, 2016. The company beat Wall Street estimates for revenues and earnings. We discussed the reasons behind Nike's steady top-line performance in the previous section. In this article, we'll focus on the company's fiscal 2Q17 margins and profitability.
Article continues below advertisement
What drove Nike's fiscal 2Q17 earnings beat?
In fiscal 2Q17, Nike's adjusted earnings per diluted share stood at $0.50, $0.07 more than what analysts were expecting. Its EPS[1. earnings per share] grew 11% YoY (year-over-year), primarily driven by higher revenues, a lower SG&A rate, and a decline in average share count.
Nike's competitors also displayed solid performances in their recent quarters. Under Armour (UAA) reported increased EPS of 29% YoY to $0.29, topping the consensus estimates by $0.04.
Lululemon Athletica's (LULU) EPS increased 34% YoY to $0. 47 per share, beating the consensus by $0.04.
Columbia Sportswear (COLM) reported earnings of $0.18 per share in its latest quarter, which is in line with the consensus.
A look at NKE's fiscal 2Q17 gross margins
Nike's fiscal 2Q17 gross margin shrank ~140 basis points to 44.2%. The company's gains from higher average selling prices were washed away by higher product costs, foreign exchange effects, and a higher mix of off-price sales during the quarter.
Operating margin improved despite lower gross margin
Despite a decline in gross margin, Nike's (NKE) operating margin improved 140 basis points to 13.6%. This improvement was driven by lower SG&A expenses, which fell 2% during the quarter. Demand creation expenses fell 1% while the operating overhead decreased 3% during the quarter.
Demand creation and overhead costs rose 25% and 6%, respectively, in fiscal 1Q17. First quarter demand creation expenses were a result of Nike's investment in the Olympics and the European football championships.
ETF investors seeking to add exposure to NKE can consider the SPDR Dow Jones Industrial Average ETF (DIA), which invests 1.8% of its portfolio in NKE.