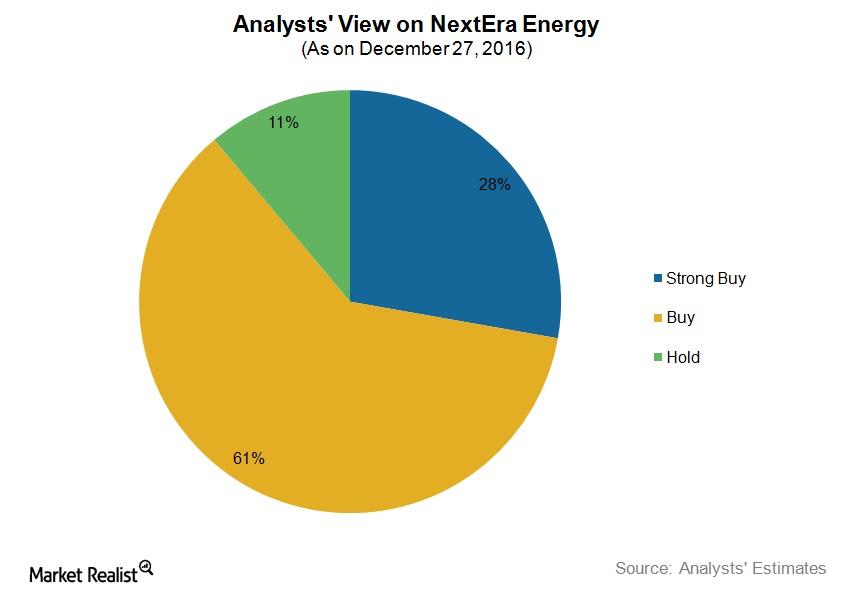 Why NextEra Energy Could Be an Attractive Option for 2017
Utilities ahead
Broadly speaking, utilities are one of the slow-growing, unexciting stock categories in the investment universe. However, to everyone's surprise, these defensives marched a mammoth 25% in the first half of 2016 and outperformed broader equities by a huge margin.
But, going forward, how are they placed as 2017 approaches? In this series, we'll mull examine the S&P 500 utilities that have an estimated upside that exceeds 10% according to Wall Street analysts during the next year.
Article continues below advertisement
Renewables giant NextEra Energy (NEE) is one of the four stocks among S&P 500 utilities that are expected to have a handsome upside in 2017. NextEra Energy has an estimated gain of 15% through the next year. According to analysts' estimates, NEE has a median price $136.67 against its current market price of $119.20.
Analyst views
Of the total 18 analysts tracking NextEra Energy on December 27, 2016, five recommend it as "strong buy" while 11 recommend it as a "buy." Two analysts recommend NextEra Energy as a "hold," and none of the analysts offered a "sell" recommendation.
In comparison and according to analysts' consensus estimates, Exelon Corporation's (EXC) one-year median price target is $38.00, implying a 7% upside from its current price of $36.00. Southern Company (SO) has a one-year median price target of $50.88, implying an upside of just 3% in the next year, compared to its current market price of $49.36.
NextEra Energy: Outlook
NextEra Energy is one of the few fast-growing utilities in the US with long-term targeted earnings growth of 6%–8%. Utilities (XLU) at large are expected to grow 4%–6% for the next few years.
NextEra Energy's earnings growth rate is projected to accelerate in the longer term. Oncor, a recently acquired utility business in Texas, could offer a higher growth rate than in Florida, where NEE currently has principal operations.