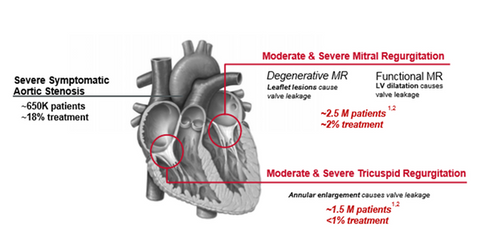 New Structural Heart Initiatives: Edwards' Key Growth Drivers in 2017 and Beyond
By Sarah Collins

Updated
Transcatheter mitral and tricuspid therapies
Mitral and tricuspid regurgitation are severely undertreated deadly diseases. According to MedlinePlus, "Mitral regurgitation is a disorder in which the mitral valve on the left side of the heart does not close properly. Regurgitation means leaking from a valve that does not close all the way."
MedlinePlus also states: "The tricuspid valve separates the right lower heart chamber (the right ventricle) from the right upper heart chamber (right atrium). Tricuspid regurgitation is a disorder in which this valve does not close tight enough. This problem causes blood to flow backward into the right upper heart chamber (atrium) when the right lower heart chamber (ventricle) contracts."
Article continues below advertisement
According to Edwards Lifesciences' (EW) estimates, mitral regurgitation patients are estimated to be around 2.5 million–3.5 million, whereas only about 25,000 patients per year are treated in the US. Similarly, tricuspid valve regurgitation is estimated to be prevalent in 1.6 million people, while less than 6,000 undergo treatment. The company thus sees a huge unmet need in these areas.
Major competitors with Edwards Lifesciences in this space include Medtronic (MDT), Boston Scientific (BSX), and Abbott Laboratories (ABT). The Vanguard Total Stock Market ETF (VTI) has approximately 0.10% of its total holdings in EW.
Undergoing product trials
Some of the products under trial include EW's CardiAQ, which is a TMVR (transcatheter mitral valve replacement) product, Pascal for functional mitral repair, Harpoon for degenerative mitral repair, and Forma for tricuspid repair.
EW's CardiAQ is undergoing early feasibility study in the US. However, in Europe, the product is already undergoing CE Mark trial and is expected to be approved in 2018. CE Mark studies for Pascal and Harpoon are expected to start in 2017, whereas for Forma it is expected to be initiated in 2018.
Continue to the next part for a look at EW's recent acquisition of Valtech Cardio.
Correction: This article originally claimed that Edwards added Pascal and Forma to its portfolio as part of its Valtech acquisition. However, both products are internal programs at Edwards. We have updated the post accordingly, and we regret this error.