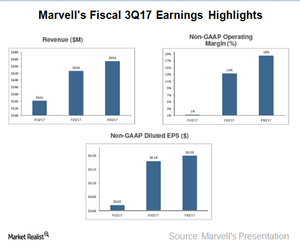 New Management Puts Marvell Back in Business
Marvell's earnings turnaround
Communications semiconductor supplier Marvell Technology Group (MRVL)—a name that was recently in the spotlight for an accounting scandal—is showing signs of revival. Strong growth in the company's latest earnings report has built optimism across the market. The company's stock rose ~10.7% in November 2016, and analysts are now revising their earnings estimate for the company.
But after 18 months of earnings declines, what led to the turnaround of Marvell in fiscal 3Q17?
Notably, a similar optimism is being witnessed by rival Cypress Semiconductor (CY), which reported strong growth after the acquisition of Broadcom's (AVGO) wireless IoT (Internet of Things) business. Cypress stock rose 13.6% in November 2016.
Article continues below advertisement
Favorable industry outlook
According to IC Insights, the communications market is expected to overtake the computer market to become the largest end user market for global IC (integrated circuit) sales in 2016.
The report forecasts that overall IC sales will reach $291.3 billion in 2016, with the largest contribution of 39.3% coming from the communications market, followed by 34.7% from the computer market.
New leadership, focused on revival
Marvell got a new chief executive, Maxim Integrated's (MXIM) Matthew Murphy, in June 2016. In four months of his leadership, Matthew Murphy has assembled a strong management team, announced a restructuring plan, realigned the company's R&D (research and development) efforts in growth areas, and restarted share buyback program after three quarters of no buybacks.
The company has come clean from the accounting scandal probe and is close to settling all its legal cases. All this has happened in the past four months, and more is still to come.
As part of its restructuring program, Marvell plans to lay off 900 workers—17% of its workforce—and channelize the company's efforts in three segments: Storage, Networking, and Wireless. Within these segments, it will focus on growth areas of enterprise and cloud.
First signs of improvement
Matthew Murphy plans to design future growth strategies that can make Marvell more efficient and profitable. The first signs of this change were visible in its fiscal 3Q17 earnings, which saw better-than-expected revenue and profits due to strong growth in the data storage and network infrastructure segments. Marvell plans to reveal its capital allocation strategy and long-term target financial model at its 2017 Analyst Day, which will take place in early 2017.
In this series, we'll look at the new management's vision for Marvell and the impact of this turnaround could have on the company's earnings.