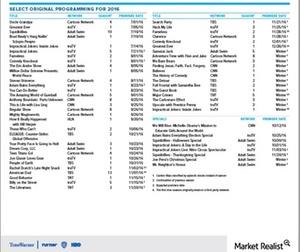 How Is Netflix Scaling Up Its Original Content?
By Shirley Pelts

Updated
Netflix is scaling up original content
Netflix (NFLX) intends to produce 1,000 hours of original programming in 2017. But the company stated at the UBS Global Media and Communications conference earlier this month that there is a possibility that it could exceed this conservative estimate.
The company also stated that it is not only producing original content but also looking at how the company can bring intellectual property owned by other companies to its subscribers. The company cited the example of Gilmore Girls, a show whose intellectual property rights are owned by Time Warner's (TWX) Warner Bros. However, the show was revived again after nearly ten years and streamed on Netflix.
Article continues below advertisement
Time Warner's original programming strategy
Time Warner (TWX) stated at its fiscal 3Q16 earnings call that it has a strong pipeline of original programming in 2017. Time Warner stated earlier that the reason for the strong focus on original programming is because it considers the genre of general entertainment a major growth driver of affiliate fees and audience reach. Time Warner also believes that original programming will lead to more content distribution opportunities in international markets.
The company stated at a Deutsche Bank (DB) investment conference earlier this year that it expects to double its original programming budget from $500 million in 2016 to $1 billion by 2018, specifically for Turner's TBS and TNT.