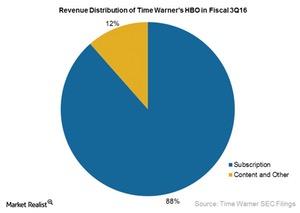 Why Is Netflix Focusing on Premium Content?
By Shirley Pelts

Dec. 28 2016, Published 1:02 p.m. ET
Netflix's focus on premium content
Netflix's (NFLX) content has been a key factor that has differentiated it from its competitors. However, among media companies, there has been a focus on producing premium content like Netflix's The Crown, Time Warner's HBO's Westworld, and Amazon's The Grand Tour.
The company was asked about this trend at the UBS Global Media and Communications conference earlier this month. Netflix stated that premium content was needed to capture the attention of its audiences, as there is a great deal of content to choose from. A Netflix spokesperson further stated, "I think people try to hedge their bets a little bit by going, swinging for the fences every time. What we try to do is take really measured swings for the fences if that's possible, which is with known creators with a great idea, in many cases with a great script."
Article continues below advertisement
The company also discussed unscripted television shows at the UBS Global Media and Communications conference. Netflix is producing about 20 unscripted television shows. The company stated that it views unscripted content as "interchangeable." Netflix further elaborated, "…if you want to watch a show about hoarding, there's three different shows about hoarding that you can watch, and people watch it with seemingly equal passion when you swap them out. And what we could do by producing our own is focus on the shows that are more likely to travel internationally because we have seen that from the thing that we licensed."
Time Warner's focus on original content
Time Warner (TWX) stated on the company's fiscal 3Q16 earnings call that it believes that quality content will drive the demand among both its HBO Now subscribers and MVPD (multi-channel video programming distributors). We should note that HBO played an important role in prompting AT&T (T) to acquire Time Warner.
In fiscal 3Q16, subscription revenues comprised 88% of HBO's total revenues of $1.4 billion.