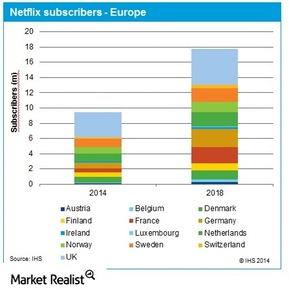 Is Netflix Changing Its International Programming Strategy?
By Shirley Pelts

Dec. 4 2020, Updated 10:52 a.m. ET
Netflix's aggressiveness regarding local content
Early this year, Netflix (NFLX) expanded to 130 countries, taking its total to 190 countries. A core part of Netflix's business strategy in international markets has been its focus on localization of content. The company is focusing on original content in the local language in international territories.
The company was asked about its local content strategy at the UBS Global Media and Communications conference earlier this month. Netflix stated that it has become quite aggressive when it comes to local content in international territories. The company said that it is currently producing original local content in 12 countries.
Article continues below advertisement
The company further explained that its local content like the Brazilian show 3% and the French show Marseille are proving to be popular not only in the local territories but also in Europe and the United States. The company has released these shows with English subtitles or dubbed them in the local language in other international territories.
Netflix's popularity in Europe
Last year, Netflix said at the UBS (UBS) Global Media and Communications Conference that it had crossed 2 million subscribers in Germany (EWG) and France (EWQ). Netflix has proved to be extremely popular in those countries. Eight of the top ten shows there are Netflix originals.
The main reason for Netflix's popularity in European countries such as Germany and France has been a mix of the company's original English language programming and local content.
According to a 2014 IHS (IHS) Technology Report, Netflix is expected to add 8.0 million European subscribers by the end of 2018. The same report also stated that the growth in the Western European SVOD (subscription video on demand) market is expected to see an annual average growth rate of 35.0% from 2014–2018, mainly propelled by Netflix.