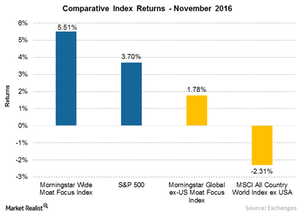 Why Moat Indices Outperformed Benchmarks in November
By VanEck

Dec. 20 2016, Updated 1:41 p.m. ET
VanEck
For the Month Ending November 30, 2016
Article continues below advertisement
Performance Overview
The U.S.-oriented Morningstar® Wide Moat Focus IndexSM (MWMFTR, or "the U.S. Moat Index") outpaced the S&P 500® Index (5.51% vs. 3.70%) in November as several constituents flourished in the days following the results of the U.S. presidential election. The election had a similar effect on some international moats, and as a whole they outperformed the broad international markets. Morningstar® Global ex-US Moat Focus IndexSM (MGEUMFUN, or "the International Moat Index") outpaced the MSCI All Country World Index ex USA (1.78% vs. -2.31%).
Year-to-date through November 30, both Indices bested their benchmarks. The U.S. Moat Index has gained 21.76% versus 9.79% for the S&P 500 Index, and the International Moat Index rose 4.42% compared to 1.89% for the MSCI All Country World Index ex USA.
Market Realist
The US moat index outperformed in November
Following the results of the US presidential election, the US stock market has followed an upward growth trajectory. Though all the major indices have recorded unprecedented gains, the chart below shows that moat indices have reported dramatic outperformance compared to benchmarks. This performance proves that quality stocks offer an advantage over benchmarks.
Article continues below advertisement
The Morningstar Wide Moat Focus Index
The Morningstar Wide Moat Focus Index (MOAT) provides exposure to companies in the Morningstar US Market Index. It was one of the biggest gainers not only in November but year-to-date as well. The moat index comprises companies (BK) (AMZN) with sustainable competitive advantages, as determined by Morningstar. Morningstar selects the constituents based on quantitative and qualitative factors. The index provides exposure to companies (TIF) (NSC) with Morningstar Economic Moat Ratings trading at a lower market price compared to their intrinsic values.
The index follows a staggered rebalancing approach. Holdings are divided into two sub-portfolios, each containing 40 stocks. One sub-portfolio reconstitutes in December and June while the other sub-portfolio reconstitutes in March and September.
The Morningstar Global ex-US Moat Focus Index
The Morningstar Global ex-US Moat Focus Index (MOTI) provides exposure to ex-US quality companies in both developed and emerging markets that offer a wide or narrow moat. The stocks are selected based on their relative attractiveness compared to Morningstar's fair value estimates. The index comprises around 50 equal-weighted stocks that are reconstituted semi-annually.