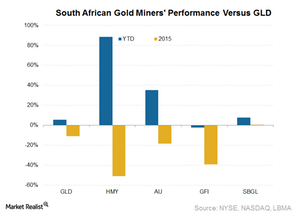 How Could the Fed's Decision Impact South African Miners?
South African miners and their performances
South African miners can be categorized as senior miners or intermediate miners. But there are unique factors driving their performances that merit special attention.
It was a very bad year for South African mining stocks in 2015 due to falling gold prices and geography-specific problems such as labor unrest and power issues. The first half of 2016 reversed these miners' fortunes, only to turned around later.
While Harmony Gold (HMY) fell 51.0% in 2015, it has risen 88.0% YTD (year-to-date) as of December 14, 2016. This uptrend has been driven by rises in gold prices through the US dollar (UUP) (USDU) and a weakness in the South African rand.
Article continues below advertisement
South African miners' leverages
Harmony Gold is much more exposed to South Africa than any other miners. It's also the highest-cost gold producer. These factors have made the company much more leveraged to rises in gold prices. Under a weaker gold price environment, it might be the one to fall the furthest.
Sibanye Gold (SBGL) has risen 8.0% YTD, while Anglogold Ashanti (AU) and Gold Fields (GFI) have returned 35.0% and -2.0%, respectively, YTD. These four South African companies make up 6.1% of the VanEck Vectors Gold Miners ETF (GDX).
This group has a strong correlation with gold, but the correlation is lower than the correlation of North American miners. From the start of 2013 to December 14, 2016, the group's correlation is 0.84.
The rand and miners
The depreciating rand was another reason for this group's outperforming gold prices. In 2Q16, Sibanye had a 30.6% rise in its average realized price YoY (year-over-year). Its operating profit skyrocketed 240.0%, and its margin more than doubled. Sibanye has recently acquired Stillwater Mining, which could provide it with an upside if palladium prices remain buoyant due to a strong demand as they have been YTD.
With the Federal Reserve's rate hike decision in December 2016, the US dollar has strengthened, which could weaken the rand. In such a scenario, miners' costs could fall, leading to the outperformance of the broad gold miners index. South Africa–focused miners Harmony and Sibanye could outperform in such a situation.
For the latest Wall Street ratings on these companies, read How Does Wall Street Rate Gold Miners as Gold Takes a Breather? For more updates on precious metal mining stocks, keep checking in with Market Realist's Precious Metal Mining page.