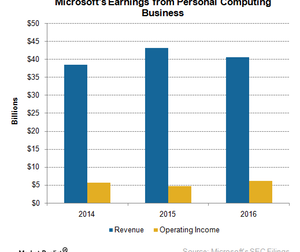 What Does Microsoft Aim to Achieve from Qualcomm's Partnership?
By Puja Tayal

Updated
Microsoft finds an alternative supplier in Qualcomm
In the previous part of this series, we saw that Microsoft's (MSFT) partnership with Qualcomm (QCOM) to bring Windows on ARM brings opportunities for Qualcomm but poses a threat to Intel (INTC). However, what does it mean for Microsoft?
Until now, all versions of Windows were developed for Intel's x86 chips. This is the first time that Microsoft has developed Windows for another processor—Qualcomm's Snapdragon 835 built on ARM Holdings's (ARMH) technology. This reduces Microsoft's dependency on Intel and gives it an alternative supplier in Qualcomm and an alternative chip technology in ARM.
Article continues below advertisement
What does Microsoft look to achieve from Qualcomm's partnership?
The demand in the PC space is slowing, resulting in revenue declines from Microsoft's PC segment. The company dominates the PC and ultramobile market, but it lags behind in the mobile market, which is dominated by the Android OS. Hence, it decided to tap the mobile market by making its Windows applications available on Android, iOS, and other platforms along with its own OS.
To bring Windows applications to Android, Microsoft partnered with Qualcomm (QCOM), which powers ~95% of the world's smartphones. Microsoft would use emulation technology to allow Win32 apps built for x86 chips to run on ARM chips. Qualcomm's Snapdragon 835 would support Microsoft's universal Windows apps and Win32 apps.
Microsoft expects to make available all the applications it wrote for Windows PCs on the devices powered by QCOM's Snapdragon-835. If Microsoft succeeds in doing so, Windows tablets and notebooks would become more competitive with Apple's (AAPL) iPad Pro.
This raised the question whether Windows 10 would work on ARM chips other than the ones developed by Qualcomm. Microsoft didn't comment on this, but analysts believe that the company may expand its reach to other ARM chips if its partnership with Qualcomm succeeds. This could bring mobile computing to various devices and create a whole new revenue stream for Microsoft.
Past challenges haunt Microsoft
However, Microsoft faces a big challenge of getting Win32 apps work flawlessly on ARM processors. It tried to bring Windows on ARM in late 2012 with its Windows RT OS, but this effort failed as the OS could not run some Windows applications. Microsoft had to bear a charge of $900 million in July 2013 due to low sales of Windows RT devices.
This past still haunts Microsoft. If history repeats itself, Microsoft may face another charge of close to $1 billion. Next, we'll see how Windows on ARM could benefit PC and mobile OEMs.[1. original equipment manufacturers]